March 15, 2018
Navarathri Haadu Lyrics
Navarathri Haadu Lyrics: Navarathri Haadu is a song from the 1994 Kananda movie Panjarada Gili, written and directed by Sudheendra Kallol. The film was produced by Sudha Kallol under the banner Shoorpali Films. Panjarada Gili features Sunil, Shruthi, Lokesh, Vaishali Kasaravalli, Umesh, Aravind, Bank Janardhan, Ashok Badaradinni, Simha Hemmige, Master Damarugendra, Rathnakar, Pankaja, Rekha Das, Saroja Shetty, C G Panduranga, Nagaraj, Prakash Poojari, Mukunda, Raghavendra Rao, Navanitha, Padmini, Bhagyashree, Vijayalakshmi and others.
Lahari Music is the music label of this movie. Navarathri Haadu song was composed by V. Manohar with lyrics penned by Coffee Raghavendra. This song was rendered by Sangeetha Katti.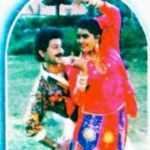 Navarathri Haadu Lyrics
Movie: Panjarada Gili
Music: V. Manohar
Music Label: Lahari Music
Singer: Sangeetha Katti
Lyrics: Coffee Raghavendra
Check out the lyrics here..
Banni Koodi Ella Haadi Aachariso Raathri
Banni Marada Melidda Porushava Thegeda Raathri
Idu Navaraathri Idu Navaraathri
Idu Navaraathri Idu Shubharaathri
Banni Koodi Ella Haadi Aachariso Raathri
Banni Marada Melidda Porushava Thegeda Raathri
Bombeya Irisi Chinnara Kunisi Nalidaado Habba
Dharmadaacharane Dharmadanukarane Navaraathri Dibba
Devara Namisi Poojeya Salisi Haadonavenu
Manada Kanneredu Theredukondiralu Drushtiyethakinnu
Sampradaayake Sharanu Ennuri
Mukthi Maargava Bidade Kaayiri
Banni Koodi Ella Haadi Aachariso Raathri
Banni Marada Melidda Porushava Thegeda Raathri
Papa Papa Dapa Maga
Mama Mama Pama Gari
Sari Gama Sari Gama
Pamagarini
Dada Pama Pada Pama
Papa Maga Mapa Maga
Pada Nisa Pada Nisa
Sanidapapa
Haneya Kunkumavu Galladarishanavu
Soubhagya Guruthu
Thaamboolada Jothegideradara
Baandhavya Berethu
Yarado Paata Nannaya Aata
Illi Aaduthihenu
Hiriyara Harake Ellara Hithake
Beduthiruve Naanu
Melihanalli Naavugalilli
Avanade Niyama Nammadu Januma
Banni Koodi Ella Haadi Aachariso Raathri
Banni Marada Melidda Porushava Thegeda Raathri
Idu Navaraathri Idu Navaraathri
Idu Navaraathri Idu Shubharaathri
Banni Koodi Ella Haadi Aachariso Raathri
Banni Marada Melidda Porushava Thegeda Raathri
Panjarada Gili Songs
Panjarada Gili Neenu
Namisuve Namisuve Vinayaka
Navarathri Haadu
Naana Naana Tarzan
Comments
comments