June 11, 2018
Nee Baro Dariyali Lyrics | Hrudaya Pallavi
Nee Baro Dariyali Lyrics | Hrudaya Pallavi: Nee Baro Dariyali is a Kannada song from the movie Hrudaya Pallavi, directed by R. N. Jayagopal and released in 1987. The film was produced by Kurunji Shivaram and Smt Jaya Shivaram under the banner Sri Jai Santhoshi Films International.
Hrudaya Pallavi stars Srinath, Geetha, Ramakrishna, Pavithra, Charanraj, R. N. Sudarshan, Dinesh, Brahmavar, Bangalore Nagesh, Jayagopal, Sathyabhama, Manjula Subbanna, Shanthi, Baby Usha, K S Sathyanarayana, Jackie Shivakumar, S Anand Nagaraj, Murthy, Srishaila, Sringeri Sanjeeva Sharma,Rathnakara Shetty and others. Sangeetha music is the music label of this movie. This song was composed by M. Ranga Rao with lyrics penned by R. N. Jayagopal. Nee Baro Dariyali song was rendered by P. Susheela.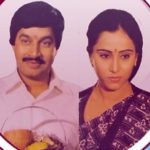 Nee Baro Dariyali Lyrics
Movie: Hrudaya Pallavi [1987]
Music Label: Sangeetha
Music: M. Ranga Rao
Lyrics: R. N. Jayagopal
Singers: P. Susheela
Check out the lyrics here..
Nee Baro Dariyali
Haasihe Preethiyali
Kanasina Hoogalanu
Nanna Kanasina Hoogalanu
Hrudayada Baagilige
Thorana Kattiruve
Hrudayada Baagilige
Thorana Kattiruve
Aaseya Yelegalanu
Nee Baro Dariyali
Haasihe Preethiyali
Baadida Bengaadinali
Preethiya Hole Thande
Mounada Ee Veeneyali
Snehada Swara Midide
Devariruva Gudiyu Indu
Aaythu Manavu Neenu Bandu
Pooje Sweekarisu
Nee Baro Dariyali
Haasihe Preethiyali
Kaade Naa Shabariyolu
Raama Nee Baruve Yendu
Raadheyu Japisidolu
Shyamana Olavigandu
Arda Bareda Hrudaya Pallavi
Poorthigaida Kaviyu Neenu
Nanna Sweekarisu
Nee Baro Dariyali
Haasihe Preethiyali
Kanasina Hoogalanu
Nanna Kanasina Hoogalanu
Hrudayada Baagilige
Thorana Kattiruve
Hrudayada Baagilige
Thorana Kattiruve
Aaseya Yelegalanu
Aa Aa Aaa Aa Aaaa Aa
Nee Baro Dariyali
Haasihe Preethiyali
Hrudaya Pallavi Songs Lyrics
Akashadinda Banda
Raagake Swaravaagi
Nee Baro Dariyali
Hrudaya Thumbi
Ramanama Payasakke
Comments
comments