June 11, 2018
Raagake Swaravaagi Lyrics | Hrudaya Pallavi
Raagake Swaravaagi Lyrics | Hrudaya Pallavi: Raagake Swaravaagi is a Kannada song from the movie Hrudaya Pallavi, directed by R. N. Jayagopal and released in 1987. The film was produced by Kurunji Shivaram and Smt Jaya Shivaram under the banner Sri Jai Santhoshi Films International.
Hrudaya Pallavi stars Srinath, Geetha, Ramakrishna, Pavithra, Charanraj, R. N. Sudarshan, Dinesh, Brahmavar, Bangalore Nagesh, Jayagopal, Sathyabhama, Manjula Subbanna, Shanthi, Baby Usha, K S Sathyanarayana, Jackie Shivakumar, S Anand Nagaraj, Murthy, Srishaila, Sringeri Sanjeeva Sharma,Rathnakara Shetty and others.
Sangeetha music is the music label of this movie. This song was composed by M. Ranga Rao with lyrics penned by R. N. Jayagopal. Raagake Swaravaagi song was rendered by famous playback singers S. P. Balasubrahmanyam and Vani Jairam.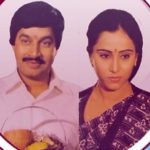 Raagake Swaravaagi Lyrics
Movie: Hrudaya Pallavi [1987]
Music Label: Sangeetha
Music: M. Ranga Rao
Lyrics: R. N. Jayagopal
Singers: S. P. Balasubrahmanyam, Vani Jairam
Check out the lyrics here..
Saa Sarigamapa Mapa Mapa Daa Pama Da Pama Gaa Riga Risa
Raagake Swaravaagi Swarake Padavaagi
Padagalige Naa Spoorthiyaagi
Iruve Jotheyaagi Ninna Kannaagi
Raagake Swaravaagi Swarake Padavaagi
Padagalige Naa Spoorthiyaagi
Iruve Jotheyaagi Ninna Kannaagi
Saa Sanida Daga Ri Sada Pada Paa
Thananam Thananam Thananam Thananam….. Thanamnaaa
Sasada Sasada Sasada Sasada …. Pada Sagari
Munjaaneya Yelebisilalli Muththina Hanigala Thampu
Sagarada Ee Alegalali Prakruthiya Shakthiya Impu
Kadalali Nadiya Sangamavu Devana Srushtiya Reethi
Gandu Hennina Hrudaya Sangama Idara Hesare Preethi
Raagake Swaravaagi Swarake Padavaagi
Padagalige Naa Spoorthiyaagi
Iruve Jotheyaagi Ninna Kannaagi
Pada Sari Gari Pada Sari Gari
Sari Gapa Dapa Sari Gapa Dapa
Riga Paga Saga Riga Paga Saga
Sariga Gariga Gari Gapada Gapada Gapa
Pada Sari Gari Saaa
Hrudaya Pallavi Songs Lyrics
Akashadinda Banda
Raagake Swaravaagi
Nee Baro Dariyali
Hrudaya Thumbi
Ramanama Payasakke
Comments
comments