June 19, 2018
Pappikode Ondu Pappikode Lyrics | Kunthi Puthra
Pappikode Ondu Pappikode Lyrics | Kunthi Puthra: Pappikode Ondu Pappikode is a Kannada song from the movie Kunthi Puthra [Kunthiputra], directed by Vijay and was released in 1994. The film was produced by Vijay under the banner Sri Vaishnodevi Productions.
Kunthi Puthra features Sahasa Simha Vishnuvardhan, Shashikumar, Sonakshi, Rajanand, Mukyamanthri Chandru, Sudheer, Ramesh Bhat, Umesh, Pandaribai, Rekha Prakash, Kalashree, Rathnakar, Dingri Nagaraj, Sihikahi Chandru, B K Shankar, Mandeep Roy, M S Karanth, Chikkanna, Srishailan, Ramanand, Master Anand and others. Jhankar Music is the music label of this movie. This song was composed by Vijayanand with lyrics penned by S. Narayan, Doddarange Gowda, Manohar. Pappikode Ondu Pappikode song was rendered by S. P. Balasubrahmanyam.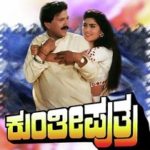 Pappikode Ondu Pappikode Lyrics
Movie: Kunthi Puthra [1994]
Music Label: Jhankar Music
Music: Vijayanand
Lyrics:  S. Narayan, Manohar
Singers: S. P. Balasubrahmanyam
Check out the lyrics here..
Pappiyeee Pappi Pappi Pappi Pappi
Pappi Kode Ondu Pappi Kode
Ee Lippige Nee Bigidappi Kode
Pappi Kode Ondu Pappi Kode
Ee Lippige Nee Bigidappi Kode
Ee Preethiso Premiya Kaadadiru
Nee Prarthane Kelade Hogadiru
Naayimani Sorry Naari Mani
Vaiyyaari Mani
Pappi Kode Ondu Pappi Kode
Ee Lippige Nee Bigidappi Kode
Kann Galalide Bari Red Signal
Manasolagade Ide Green Signal
Ninna Hinde Naa Body-Ya Gaurd-U
Thegeyamma Nee No Entry Board
Wrong Side-U Bandare One Way-Li Accident
Two Way Li Ibbaru Bandaga Sexident
Jaga Jagisuva Ee Mai Kaanthi
Yelu Bannagala Rang Basanthi
Yava Mai Soap Madithu Kranthi
Ninna Munde Nanna Prema Vinanthi
Hithavada Shower-U Baath-U
Ninagaagi Flower-U Baath-U
Kithani Haasee Ye Baath
Milna Hai Aaj Raath
Hey Kodu Nanage Premada Bhikshe
Yethake Nanagee Shikshe
Prathi Divasa Prema Parikshe
Fail Adare Life-Ye Jigupse
Pappi Kode Ondu Pappi Kode
Ee Lippige Nee Bigidappi Kode
Aaaaa
Neerolage Nee Eejuthalidre
Meenugalige Balu Confuse
Ee Dress Ali Ninnanu Kandu
Burn Aayithu Nannede Fuse-U
Swimmingu Poolige Bandaaythu Lucky Chance Ayyo
Nee Nanna Paalige Sikkantha Lucky Choise Hoo
Chali Chaliyali Kuniyuve Nadugi
Mai Bisi Bisi Madale Hudugi
Holeyuva Jala Kanyeyu Neenu
Hadi Hareyake Putiyuva Meenu
Ahaha Yenidu Aaha Mai Fruit-U Saladu
Ee Skecthu Yaradu Ee Beuty Solidu
Hey Ee Juicy Figure Iruvaaga Kanjoosi Agadiru
Kolminchina Body Line-U Sanyaasini Agadiru
Donak Dinna Dinak Dinna Ha Ha Ha
Pappi Kode Ondu Pappi Kode
Ee Lippige Nee Bigidappi Kode
Pappi Kode Ondu Pappi Kode
Ee Lippige Nee Bigidappi Kode
Ee Preethiso Premiya Kaadadiru
Nee Prarthane Kelade Hogadiru
Naayimani Sorry Naari Mani
Vaiyyaari Mani
Pappi Kode Ondu Pappi Kode
Ee Lippige Nee Bigidappi Kode Hey
Pappi Pappi Pappi Bigidappi Appi Appi
Kunthi Puthra Song Lyrics
Ee Prema Mareyada Manasina
Nammoora Siridevi
Amma Yennalu
Pappikode Ondu Pappikode
Ding Dong Ding Dong
Comments
comments