June 19, 2018
Ding Dong Ding Dong Lyrics | Kunthi Puthra
Ding Dong Ding Dong Lyrics | Kunthi Puthra: Ding Dong Ding Dong is a Kannada song from the movie Kunthi Puthra [Kunthiputra], directed by Vijay and was released in 1994. The film was produced by Vijay uner the banner Sri Vaishnodevi Productions.
Kunthi Puthra features Sahasa Simha Vishnuvardhan, Shashikumar, Sonakshi, Rajanand, Mukyamanthri Chandru, Sudheer, Ramesh Bhat, Umesh, Pandaribai, Rekha Prakash, Kalashree, Rathnakar, Dingri Nagaraj, Sihikahi Chandru, B K Shankar, Mandeep Roy, M S Karanth, Chikkanna, Srishailan, Ramanand, Master Anand and others. Jhankar Music is the music label of this movie. This song was composed by Vijayanand with lyrics penned by S. Narayan, Manohar. Ding Dong Ding Dong song was rendered by Manjula Gururaj.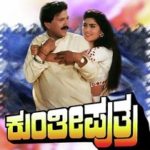 Ding Dong Ding Dong Lyrics
Movie: Kunthi Puthra [1994]
Music Label: Jhankar Music
Music: Vijayanand
Lyrics: S Narayan, Manohar
Singers: Manjula Gururaj
Check out the lyrics here..
Dinga Danga Dinga Danga Dinga |2|
Haan Dinga Danga Dinga Danga Dinga |2|
Ninnanu Nodalu Maththe Maththe Nannali
Banna Bannadaase Hechchide
Han Ninnalu Kaadalu Muththu Kottu Koodalu
Kiththu Thinno Praaya Ukkide
Kannu Kannu Koodi Kareyalu
Nanna Baala Moha Thabbide
Achchu Mechchu Sneha Seleyalu
Maiyya Thumba Daaha Habbide
Mellage Mellage Bayake Benki Hoththi Muththi
Ninnanu Nodalu Maththe Maththe Nannali
Banna Bannadaase Hechchide
Ukkuva Hareyada Bechchane Appuge
Oppikollo Thola Bayaside
Ninnaya Olavina Kenneya Kachchalu
Preethi Huchchu Yelle Meeride
Suththa Muththa Nee Nodu Jodi Hakkiya
Akka Pakka Nee Kaanu Hoovu Dumbiya
Suththa Muththa Nee Nodu Jodi Hakkiya
Akka Pakka Nee Kaanu Hoovu Dumbiya
Bhavane Thulukuva Kamane Kenakuva
Mechchina Manmatha Anga Sanga Savi Baaro
Ninnanu Nodalu Maththe Maththe Nannali
Banna Bannadaase Hechchide
Han Ninnalu Kaadalu Muththu Kottu Koodalu
Kiththu Thinno Praaya Ukkide
Swargada Sukhadali Theluva Huchchige
Nanna Deha Dinavu Kaadide
Mallige Manchada Premada Kichchige
Nanna Praana Bidade Thudidide
Aththa Iththa Neenu Nodu Kadalu Nadigale
Alli Illi Ellelloo Prema Leeleye
Aththa Iththa Neenu Nodu Kadalu Nadigale
Alli Illi Ellelloo Prema Leeleye
Bhavane Thulukuva Kamane Kenakuva
Mechchina Manmatha Anga Sanga Savi Baaro
|Ninnanu Nodalu Maththe …… Benki Hoththi Muththi |
Ninnanu Nodalu Maththe Maththe Nannali
Banna Bannadaase Hechchide
Dinga Danga Dinga Danga Dinga |4|
Kunthi Puthra Song Lyrics
Ee Prema Mareyada Manasina
Nammoora Siridevi
Amma Yennalu
Pappikode Ondu Pappikode
Ding Dong Ding Dong
Comments
comments