June 19, 2018
Amma Yennalu Lyrics | Kunthi Puthra
Amma Yennalu Lyrics | Kunthi Puthra: Amma Yennalu is a Kannada song from the movie Kunthi Puthra [Kunthiputra], directed by Vijay and was released in 1994. The film was produced by Vijay under the banner Sri Vaishnodevi Productions.
Kunthi Puthra features Sahasa Simha Vishnuvardhan, Shashikumar, Sonakshi, Rajanand, Mukyamanthri Chandru, Sudheer, Ramesh Bhat, Umesh, Pandaribai, Rekha Prakash, Kalashree, Rathnakar, Dingri Nagaraj, Sihikahi Chandru, B K Shankar, Mandeep Roy, M S Karanth, Chikkanna, Srishailan, Ramanand, Master Anand and others. Jhankar Music is the music label of this movie.
This song was composed by Vijayanand with lyrics penned by Doddarange Gowda, Manohar. Amma Yennalu song was rendered by S. P. Balasubrahmanyam.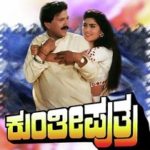 Amma Yennalu Lyrics
Movie: Kunthi Puthra [1994]
Music Label: Jhankar Music
Music: Vijayanand
Lyrics: Doddarange Gowda, Manohar
Singers: S. P. Balasubrahmanyam
Check out the lyrics here..
Amma Yennalu Koti Punyavo
Avala Thyagake Saati Illavo
Preethi Thumbi Thanda
Avalaado Maathe Vedagalu
Daivagaligella Migilaada Daivave Avalu
Amma Yennalu Koti Punyavo
Avala Thyagake Saati Illavo
Brahmane Barediruve Yenu Ninna Leele
Arthavillada Baalu Yekayya
Nithya Naa Surisurive Kambaniya Dhaare
Thaaya Kaanade Thaalalaarade
Heththavalu Ninagillave
Vathsalyada Arivillave
Mookavedane Saaku Maadayya
Amma Yennalu Koti Punyavo
Avala Thyagake Sati Illavo
Iddaroo Kanneduru Kaanisade Thaayi
Ninna Karula Jeeva Naanamma
Omme Nee Baaytheredu Kanda Yendu Koogu
Dooravaagali Paapavellavu
Lokavella Naa Saaruve Nanna Siri Neenennuve
Saavinaloo Naa Naguve
Amma Yennalu Koti Punyavo
Avala Thyagake Saati Illavo
Preethi Thumbi Thanda
Avalaado Maathe Vedagalu
Daivagaligella Migilaada Daivave Avalu
Amma Yennalu Koti Punyavo
Avala Thyagake Saati Illavo
Kunthi Puthra Song Lyrics
Ee Prema Mareyada Manasina
Nammoora Siridevi
Amma Yennalu
Pappikode Ondu Pappikode
Ding Dong Ding Dong
Comments
comments