February 5, 2018
Sagaradalli Thingalu Chello Lyrics
Sagaradalli Thingalu Chello Lyrics: Sagaradalli Thingalu Chello is a song from 2000 Kannada movie Shrirasthu Shubhamasthu, Directed by Seetaram Karanth. Shrirasthu Shubhamasthu features Ramesh Aravind, Anu Prabhakar, Naveen Krishna, Srinivasa Murthy, Nagesh Mayya, Mandeep Roy, M. N. Suresh, Vaishali Kasaravalli, Vanishree, Chithra Shenoy, Master Santhosh, Master Ravindra, Baby Deepa, Baby Bindhushree and others. Akash audio was the music label of this movie.
This song was composed and lyrics penned by K. Kalyan. Sagaradalli Thingalu Chello Song was rendered by S. P.
Balasubrahmanyam and K. S. Chithra.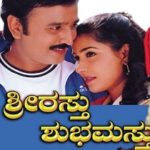 Sagaradalli Thingalu Chello Lyrics
Movie: Shrirasthu Shubhamasthu [2000]
Music Label: Akash Audio
Music: K. Kalyan
Lyrics: K. Kalyan
Singers: S. P. Balasubrahmanyam, K. S. Chithra
Check Out The Lyrics Here…
Sagaradalli Thingalu Chello Lava Lavike
Kanasugalalli Kanngalu Chello Lava Lavike
Adenu Helala Hegantha Helala
Preethiya Jodige Ee Srushti Hambala
Baa Nanna Thumbiko
Preethiyu Yendu Kandu Kelala Thiluvalike
Preethiya Eduru Nintharoo Nilladu Kanavarike
Kogile Inchara Chaithrada Chaamara
Preethiya Sundara Haadallide
Preethiyaa Haadanu Haaduva Manasanu
Gellua Uththra Ellellide
Adelli Helalaaa
Manasaare Kelalaaa
Manasanne Nodiko
Sagaradalli Thingalu Chello Lava Lavike
Sanjeya Bannagalu Lajjeya Hoovugalu
Preethiya Maayada Hejjelide
Preethiya Hejjeya Hudukuva Aaseya
Thumbuva Spandana Yaakillide
Adeke Helalaa
Kanmuchchi Kelalaaa
Muththanne Keliko
Sagaradalli Thingalu Chello Lava Lavike
Sooryana Kaanthiyu Chandrana Shaanthiyu
Preethiya Nirmala Aanelide
Preethiyaa Aaneya Kaayuva Praneya
Yedeyali Kampana Yenanthide
Yenantha Sangathi
Nee Nanna Sangaathi
Shri Rasthu Shubha Masthu
Shrirasthu Shubhamasthu [2000] Songs:
Belli Bettada Mele Bel Mugila
Yella Manasina Sanchara
Bhoodevi Neththi Mele Sindhoorave
Sagaradalli Thingalu Chello
Dhim Dhim Dinak Dina
Doora Doora Nodidashtu Doora
Punaha Punaha Kelidaru Ninna Vinaha Yenilla
Comments
comments