May 13, 2018
Sathyabhame Sathyabhame Lyrics | Ravi Chandra
Sathyabhame Sathyabhame Lyrics | Ravi Chandra: Sathyabhame Sathyabhame is a super hit song from the 1980 Kannada movie Ravi Chandra [Ravichandra], directed by A. V. Sheshagiri Rao and written by Shankar-Sundar. The film was produced by Parvathamma Rajkumar under the home banner Poornima Enterprises.
Ravi Chandra features Varanata Dr. Rajkumar in dual roles, Lakshmi, Sumalatha [In her Kannada debut], Vajramuni, Prabhakar, Savithri, Shivaprakash, Venkatappa, Ellappa, Suryakumar, Babu, Sampath, Papamma, Thimma Reddy, Baby Sushma, Chandru, Madan and others.
Sangeetha is the audio label of this movie. This song was composed by Upendra Kumar with lyrics penned by Chi. Udaya Shankar. Sathya Bhame Sathya Bhame song was beautifully rendered by Gana Gandharva Dr. Rajkumar.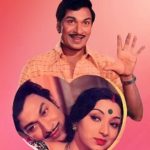 Sathyabhame Sathyabhame Lyrics
Movie: Ravi Chandra [1980]
Music Label: Sangeetha
Music: Upendra Kumar
Lyrics: Chi. Udaya Shankar
Singer: Rajkumar
Check out the lyrics here..
Aaa… Kandodane Karapididu
Kalpisada.. Sukhakoduva Bhaameyali
Indeno Kopavo Kaane… Aaa…
Bhamamani Chinthamani Kamanaragini
Mutthinamani Karimani Rimani Mani Ni Rani Rani Sathyabhame
Sathyabhame Sathyabhame Kopavene Nannali
Sathyabhame Sathyabhame Kopavene Nannali
Sarasake Karedare Virasava Thoruve Yeke Nannali
Sarasake Karedare Virasava Thoruve Yeke Nannali
Yeke Nannali Yeke Nannali
Sathyabhame Sathyabhame Kopavene Nannali
Nannali Kopave Kopave Nannali Yeke.. Nannali
Sathyabhame Sathyabhame Kopavene Nannali
Dhuru Dhuru Nodade Kidigala Kaarade
Kenakade Kaadade Doorake Odade
Dhuru Dhuru Nodade Kidigala Kaarade
Kenakade Kaadade Doorake Odade
Thanuvina Thaapava Kaleyalu Sanihake
Thanuvina Thaapava Kaleyalu Sanihake
Baare Mohini Ye Baare Mohini
Mohini Kaamini Bhaamini Baare Mohini
Sathya Bhame Sathya Bhame
Sathya Bhame Sathya Bhame Kopavene Nannali
Gallava Hidiyale Kenneya Savarale
Tholali Bhaameya Naduvane Balasale
Gallava Hidiyale Kenneya Savarale
Tholali Bhaameya Naduvane Balasale
Kolalali Mohana Ragava Nudisale
Kolalali Mohana Ragava Nudisale
Hele Komale Ye Komale
Komale Shaymale Chanchale Hele Komale
Sathya Bhame Sathya Bhame
Sathya Bhame Sathya Bhame Kopavene Nannali
Radheya Ballenu Rukmini Ballenu
Bhameyanallade Yaaranu Nodenu
Radheya Ballenu Rukmini Ballenu
Bhameyanallade Yaaranu Nodenu
Kaigala Mugidaru Yaaru Nodaru
Kaigala Mugidaru Yaaru Nodaru
Sothe Preyasi Aha Sothe Preyasi
Preyasi Rropasi Oorvasi Sothe Preyasi
Sathyabhame Sathyabhame Kopavene Nannali
Sarasake Karedare Virasava Thoruve
Sarasake Karedare Virasava Thoruve
Sarasake Karedare Virasava Thoruve
Yeke Nannali
Ravi Chandra 1980 Kannada Songs Lyrics
Sathyabhame Sathyabhame
Oh Entha Soundarya Kande
Nasu Nagutha Baa Chinna
Naa Ninna Aase Kande
Idhu Rama Mandira
Comments
comments