May 13, 2018
Naa Ninna Aase Kande Lyrics | Ravi Chandra
Naa Ninna Aase Kande Lyrics | Ravi Chandra: Naa Ninna Aase Kande is a song from the 1980 Kannada movie Ravi Chandra [Ravichandra], directed by A. V. Sheshagiri Rao and written by Shankar-Sundar. The film was produced by Parvathamma Rajkumar under the home banner Poornima Enterprises.
Ravi Chandra features Varanata Dr. Rajkumar in dual roles, Lakshmi, Sumalatha [In her Kannada debut], Vajramuni, Prabhakar, Savithri, Shivaprakash, Venkatappa, Ellappa, Suryakumar, Babu, Sampath, Papamma, Thimma Reddy, Baby Sushma, Chandru, Madan and others.
Sangeetha is the audio label of this movie. This song was composed by Upendra Kumar with lyrics penned by Chi. Udaya Shankar. Naa Ninna Aase Kande song was rendered by Rajkumar and S. Janaki.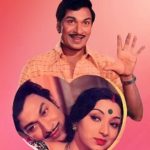 Naa Ninna Aase Kande Lyrics
Movie: Ravi Chandra [1980]
Music Label: Sangeetha
Music: Upendra Kumar
Lyrics: Chi. Udaya Shankar
Singers: Rajkumar, S. Janaki
Check out the lyrics here..
Kangalali Pranayada Hanathe Belagiralu
Ninnadara Premada Kavithe Haadiralu
Ninnolava Naa Kandu Sothu Hogiralu
Naa Ninna Aase Kande Beragaagi Mookalaade
Naa Ninna Aase Kande Beragaagi Mookalaade
Naanenu Haadaleega
Naanenu Haadaleega
Nee Helu Priya Eega
Naa Ninna Aase Kande Beragaagi Mookalaade Naatyavannu
Naa Ninna Aase Kande Beragaagi Mookalaade
Hoovige Gandhavannu Naa Chella Beke
Navilige Naatyavannu Naa Kalisabeke
Kogilege Haadendu Kogilege Haadendu Naa Helabeke
Naa Ninna Nudiya Keli Beragaagi Mookanaade
Naanenu Maadaleega
Naanenu Maadaleega
Nee Hele Priya Eega
Naa Ninna Nudiya Keli Beragaagi Mookanaade
Veeneyu Aadare Nee
Veeneyu Aadare Nee
Vyanika Priya Neenu
Gayaki Aadare Naa Gaanavu Priya Neenu
Nudisalu Naa Nudive Nadesalu Naa Nadeve
Ninnaane Nalla
Naa Ninna Aase Kande Beragaagi Mookalaade
Naa Ninna Aase Kande Beragaagi Mookalaade
Veeneyu Neenalla Vyanikanu Naanalla
Vaanige Veeneyanu Kalisuvaru Yaru Illa
Kunisuve Kangalale Thanisuve Maathinale
Kunisuve Kangalale Thanisuve Maathinale
Antha Jaane Neene
Naa Ninna Aase Kande Beragaagi Mookalaade
Naa Ninna Nudiya Keli Beragaagi Mookanaade
Naanenu Maadaleega
Naanenu Haadaleega
Nee Hele Priya Eega
Nee Helu Priya Eega
Ravi Chandra 1980 Kannada Songs Lyrics
Sathyabhame Sathyabhame
Oh Entha Soundarya Kande
Nasu Nagutha Baa Chinna
Naa Ninna Aase Kande
Idhu Rama Mandira
Comments
comments