May 13, 2018
Nasu Nagutha Baa Chinna Lyrics | Ravi Chandra
Nasu Nagutha Baa Chinna Lyrics | Ravi Chandra: Nasu Nagutha Baa Chinna is a song from the 1980 Kannada movie Ravi Chandra [Ravichandra], directed by A. V. Sheshagiri Rao and written by Shankar-Sundar. The film was produced by Parvathamma Rajkumar under the home banner Poornima Enterprises.
Ravi Chandra features Varanata Dr. Rajkumar in dual roles, Lakshmi, Sumalatha [In her Kannada debut], Vajramuni, Prabhakar, Savithri, Shivaprakash, Venkatappa, Ellappa, Suryakumar, Babu, Sampath, Papamma, Thimma Reddy, Baby Sushma, Chandru, Madan and others.
Sangeetha is the audio label of this movie. This song was composed by Upendra Kumar with lyrics penned by Chi. Udaya Shankar. Nasu Nagutha Baa Chinna song was rendered by Gana Gandharva Dr. Rajkumar.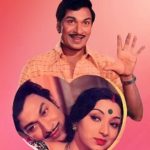 Nasu Nagutha Baa Chinna Lyrics
Movie: Ravi Chandra [1980]
Music Label: Sangeetha
Music: Upendra Kumar
Lyrics: Chi. Udaya Shankar
Singer: Rajkumar
Check out the lyrics here..
Nasu Nagutha Baa Chinna
Naliyuthire Nee Chenna
Agalenu Alisenu Innendu Ninna
Nasu Nagutha Baa Chinna
Naliyuthire Nee Chenna
Agalenu Alisenu Innendu Ninna
Bisilu Malege Neralanu Needuve
Sidilo Gudugo Jotheyali Nilluve
Bisilu Malege Neralanu Needuve
Sidilo Gudugo Jotheyali Nilluve
Nova Nunguve Sukhava Needuve
Novaa Nunguve Sukhavaa Needuve
Jeevada Jeevave Naanaagi Baaluve
Nasu Nagutha Baa Chinna
Naliyuthire Nee Chenna
Agalenu Alisenu Innendu Ninna
Ninna Nadege Hrudyava Haasuve
Ninna Nudige Jeevava Thumbuve
Ninna Nadege Hrudyava Haasuve
Ninna Nudige Jeevava Thumbuve
Ninna Kannale Ella Kaanuve
Ninna.. Kannale Ella Kaanuve
Kambani Mididare Naa Sothu Hoguve
Nasu Nagutha Baa Chinna
Naliyuthire Nee Chenna
Agalenu Alisenu Innendu Ninna
Nasu Nagutha Baa Chinna
Naliyuthire Nee Chenna
Ravi Chandra 1980 Kannada Songs Lyrics
Sathyabhame Sathyabhame
Oh Entha Soundarya Kande
Nasu Nagutha Baa Chinna
Naa Ninna Aase Kande
Idhu Rama Mandira
Comments
comments