February 4, 2022
Tera Yeri Ambaradaage Lyrics | Parasangada Gendethimma
Tera Yeri Ambaradaage Lyrics | Parasangada Gendethimma: Tera Yeri Ambaradaage is a super hit song from the 1978 Kannada film 'Parasangada Gendethimma', directed by Maruthi Shivram, based on a novel of the same by writer Srikrishna Alanahalli. The film was produced by Honnaiah and others under the banner Kalakshethra.
Parasangada Gendethimma won three awards at the 1978-79 Karnataka State Film Awards – Third Best Film, Best Actor [Lokesh] and Best Music Director [Rajan-Nagendra]. The film was remade in Tamil 'Rosaappo Ravikkai Kaari [1979]' and in Telugu as 'Kotha Neeru [1982]'.
Parasangada Gendethimma Kannada film features Lokesh, Reeta Anchan, B. R. Jayaram, Honnayya, Siddhartha, N. Lakshminarayana, R. Nagarathnamma, Shyamala, Lalithamma, Pramila, Kamala, Dingri Nagaraj, Radhakrishna, Sundaramma, Sarojamma, Ramakrishna and others.
Tera Yeri Ambaradaage song lyrics were penned by lyricist Doddarange Gowda and the song was composed by music director Rajan-Nagendra. This song was rendered by playback singer S. P. Balasubrahmanyam.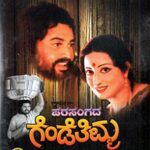 Tera Yeri Ambaradaage Lyrics
Movie: Parasangada Gendethimma [1978]
Music: Rajan-Nagendra
Singer: S. P. Balasubrahmanyam
Lyrics: Doddarange Gowda
Cast: Lokesh, Reeta Anchan
Check out 'Tera Yeri Ambaradaage Song Lyrics' here..
Tera Yeri Ambaradaage Nesara Naguthaane
Maragida Thoogyaave Hakki Haadyaave
Beeryaave Cheluva Beeryaave
Baa Nodi Naliyonda Thamma
Naav Haadi Kuniyona Thamma
Beli Myaage Banna Bannada Hoovu Aralyaave
Aa Hoovina Thumba Sanna Chitte Kunthyaave
Baagi Beegi Attha Ittha Baale Balukyaave
Aa Baale Manave Nakku Hannu Thandyaave
Kunthare Seleva
Santhasa Tharuva
Kunthare Seleva Santhasa Tharuva
Honge Tonge Thoogi Thoogi Gaali Beesyaave
Tera Yeri Ambaradaage Nesara Naguthaane
Maragida Thoogyaave Hakki Haadyaave
Maragida Thoogyaave Chilipili Hakki Haadyaave
Bhoomi Myaage Haccha Hasurina Haadhi Theredyaave
Aa Haadhi Akka Pakka Balli Beladyaave
Saalu Saalu Betta Gudda Mauna Thaledyaave
Aa Maunada Gaana Yellara Manasa Seledyaave
Bhaava Biridu
Hathira Karedu
Bhaava Biridu Hathira Karedu
Maavu Bevu Thaale Thengu Laali Haadyaave
Tera Yeri Ambaradaage Nesara Naguthaane
Tera Yeri Ambaradaage Nesara Naguthaane
Maragida Thoogyaave Hakki Haadyaave
Beeryaave Cheluva Beeryaave
Baa Nodi Naliyonda Thamma
Naav Haadi Kuniyona Thamma
Parasangada Gendethimma [1978] Songs List
1. Notadage Nageya Meeti
Singer: S. P. Balasubrahmanyam
Lyrics: Doddarange Gowda
2. Thera Eri Ambaradaage
Singer: S. P. Balasubrahmanyam
Lyrics: Doddarange Gowda
3. Ninna Roopu Edeya Kalaki
Singer: S. Janaki
Lyrics: Doddarange Gowda
4. Notadage Nageya Meeti [Sad]
Singer: S. P. Balasubrahmanyam
Lyrics: Doddarange Gowda
Comments
comments