February 4, 2022
Notadage Nageya Meeti Lyrics | Parasangada Gendethimma
Notadage Nageya Meeti Lyrics | Parasangada Gendethimma: Notadage Nageya Meeti is a super hit song from the 1978 Kannada film 'Parasangada Gendethimma', directed by Maruthi Shivram, based on a novel of the same by writer Srikrishna Alanahalli. The film was produced by Honnaiah and others under the banner Kalakshethra.
Parasangada Gendethimma won three awards at the 1978-79 Karnataka State Film Awards – Third Best Film, Best Actor [Lokesh] and Best Music Director [Rajan-Nagendra]. The film was remade in Tamil 'Rosaappo Ravikkai Kaari [1979]' and in Telugu as 'Kotha Neeru [1982]'.
Parasangada Gendethimma Kannada film features Lokesh, Reeta Anchan, B. R. Jayaram, Honnayya, Siddhartha, N. Lakshminarayana, R. Nagarathnamma, Shyamala, Lalithamma, Pramila, Kamala, Dingri Nagaraj, Radhakrishna, Sundaramma, Sarojamma, Ramakrishna and others.
Notadage Nageya Meeti song lyrics were penned by lyricist Doddarange Gowda and the song was composed by music director Rajan-Nagendra. This song was rendered by playback singer S. P. Balasubrahmanyam.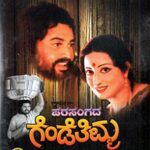 Notadage Nageya Meeti Lyrics
Movie: Parasangada Gendethimma [1978]
Music: Rajan-Nagendra
Singer: S. P. Balasubrahmanyam
Lyrics: Doddarange Gowda
Cast: Lokesh, Reeta Anchan
Check out 'Notadage Nageya Meeti Song Lyrics' here..
Notadage Nageya Meeti
Mojinage Elleya Daati
Modiya Madidola Parasangha Aithe
Parasanga Aithe
Aha Mohava Thoridola Parasangha Aithe
Parasangha Aithe
Baradadha Badukige Osa Nesru Aralaithe
Mansnaghe Hosa Aase Hosa Baase Beradaithe
Kunthru Ninthru Nanna Cheluve Cheluvu Kaadaithe
Maiyaage Santhosada Mallige Beeraithe
Maiyaage Santhosada Mallige Beeraithe
Notadage Nageya Meeti
Mojinage Elleya Daati
Modiya Madidola Parasangha Aithe
Parasanga Aithe
He He He He He Mohava Thoridola Parasangha Aithe
Parasangha Aithe
Kadu Baala Hadyage Nannaparanji Oledaithe
Hagalage Erulage Aa Niluve Seledaithe
Balavada Hambalake Nagebille Minugaithe
Nanna Hudugi Tani Bedagu Minchutha Meradaithe
Nanna Hudugi Tani Bedagu Minchutha Meradaithe
Notadage Nageya Meeti
Mojinage Elleya Daati
Modiya Madidola Parasangha Aithe
Parasanga Aithe
Mohava Thoridola Parasangha Aithe
Parasangha Aithe
Koralage Inidani Kogile Saravaithe
Nadeyage Thulukuva Hamsada Balukaithe
Mukhadage Taavareya Olape Chellaithe
Nan Rani Nija Rupu Ranganne Hanisaithe
Nan Rani Nija Rupu Ranganne Hanisaithe
Notadage Nageya Meeti
Mojinage Elleya Daati
Modiya Madidola Parasangha Aithe
Parasanga Aithe
Aha Mohava Thoridola Parasangha Aithe
Parasangha Aithe
Parasangada Gendethimma [1978] Songs List
1. Notadage Nageya Meeti
Singer: S. P. Balasubrahmanyam
Lyrics: Doddarange Gowda
2. Thera Eri Ambaradaage
Singer: S. P. Balasubrahmanyam
Lyrics: Doddarange Gowda
3. Ninna Roopu Edeya Kalaki
Singer: S. Janaki
Lyrics: Doddarange Gowda
4. Notadage Nageya Meeti [Sad]
Singer: S. P. Balasubrahmanyam
Lyrics: Doddarange Gowda
Comments
comments