March 2, 2018
Vasantha Maasadalli Lyrics
Vasantha Maasadalli Lyrics: Vasantha Maasadalli is a song from the 2001 Kannada movie Vaalee [Vaali], directed by S. Mahendar. The film was produced by Ramesh Yadav under the banner Royal Pictures. Vaalee features Sudeep, Poonam Singar, Sadhu Kokila, Gurukiran, Bank Janardhan, Shanthammma, K S Sridhar, Michel Madhu, Ramanand, Mimicry Rajgopal, Danial, Vijayasarathi and others. This film was a remake of Tamil movie Vaali starring Ajith and Simran.
Anand Audio is the music label of this movie.This song was composed by Rajesh Ramanath with lyrics penned by K. Kalyan. Vasantha Maasadalli was rendered by Unni Krishnan, Anuradha Sriram and Sudeep.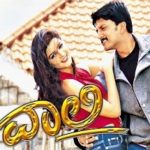 Vasantha Maasadalli Lyrics
Movie: Vaali [2001]
Music Label: Anand Audio
Music: Rajesh Ramanath
Lyrics: K. Kalyan
Singers: Unni Krishnan, Anuradha Sriram, Sudeep
Check out the lyrics here..
Say Love Say Love Say Love Say Love |2|
Thara Raari Raa
Tha Raara Raari Raa
Thara Raari Raa Riraa Riraa |2|
Vasantha Maasadali
Ondu Madhya Raathrili
Inukidalu Kitakili
Beladingala Roopadali
Nidde Gannalli Naan Idde Kshkanadalli
Avalandalu Kiviyalli Hello Hello
Hello Hello Adu Kanasaaa
Love E Love Idu Nanasaaa
Hrudaya Kadiyodu Sariye
Aa Kaluvige Dandeneyu Illave Illave
Muthalle Munnooru Chedi Yetu
Aa Thutige Kodabekallave Cheluvee
Whats The Charge
He Stolen My Heart
He Stolen My Little Heart Your Honour
Is It?
Yes Your Honour
For The Thief Of Heart Ipc Says
Thousands Kisses With Honey Dipped Lips
Ee Ninna Preethiyu Nijavendu Thiliyoke
Praana Bidu Andruu Biduthiyaaa
Saavige Bari Nanna Marithiyaaa
Hrudaya Giri Yeri Gundigeya
Gundili Jigidu Saayalu Balle Naa
Allunu Nina Kaaya Balle Naaa
Thara Raari Raa
Tha Raara Raari Raa
Thara Raari Raa Riraa Riraa |2|
Hello Hello Adu Kanasaaa
Love E Love Idu Nanasaaa
Mugilinolage Naan Avithu Kondare
Nee Hege Nanna Kandu Hidive Hidive
Kannalle Minchugala Baanava Yesedu
Ninthalle Ninna Kandu Hidive Cheluve
Ee Aasegee
Ee Bhashege
Soorya Chandra Chukkigale Saakshi
Naaleyu Namadendu Badukuva Preethige
Yenu Guruthannu Koduthiyaaa
Marali Nee Yenu Padithiyaaa
Ee Ninna Hrudakke Nann Eradu Kannittu
Adara Belakalle Iruthini
Antha Badukige Kaythini
Vasantha Maasadali
Ondu Madhya Raathrili
Inukidalu Kitakili
Beladingala Roopadali
Nidde Gannalli Naan Idde Kshkanadalli
Avalandalu Kiviyalli Hello Hello
Hello Hello Adu Kanasaaa
Love E Love Idu Nanasaaa
Vaalee Kannada Songs Lyrics
O Sona O Sona
Vasantha Maasadalli
Chandirana Hididu
Mele Chandrana
Dil Meri Dil
Comments
comments