March 2, 2018
Chandirana Hididu Lyrics
Chandirana Hididu Lyrics: Chandirana Hididu is a song from the 2001 Kannada movie Vaalee [Vaali], directed by S. Mahendar. The film was produced by Ramesh Yadav under the banner Royal Pictures. Vaalee features Sudeep, Poonam Singar, Sadhu Kokila, Gurukiran, Bank Janardhan, Shanthammma, K S Sridhar, Michel Madhu, Ramanand, Mimicry Rajgopal, Danial, Vijayasarathi and others. This film was a remake of Tamil movie Vaali starring Ajith and Simran.
Anand Audio is the music label of this movie.This song was composed by Rajesh Ramanath with lyrics penned by K. Kalyan. Chandirana Hididu was rendered by Unni Krishnan and Anuradha Sriram.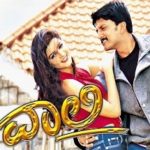 Chandirana Hididu Lyrics
Movie: Vaali [2001]
Music Label: Anand Audio
Music: Rajesh Ramanath
Lyrics: K. Kalyan
Singers: Unni Krishnan, Anuradha Sriram
Check out the lyrics here..
Chandirana Hididu Manchadalli Kattidu
Mugilanu Thandu Meththeya Maadidu
Chandirana Hidide Manchadali Kattide
Mugilanu Yelede Meththeya Maadide
Uriyo Sooryana Kadalali Bachchidu
Irulanu Ulisalu Bhoomige Helidu
Uriyo Sooryana Kadalali Muchchide
Irulane Ulisalu Dharanige Helide
Indu Modalirulu
Indu Modalirulu Namma Youvvanavu Nagalu |2|
Premavo Kaamavo Maayavo Kaanene
Anda Mai Anda Idu Kaaduva Kaamana Billu
Baanaana Hoodoke Bandaano Ee Madana
Chora Nanna Chora Thutaatake Neene Modalu
Kavi Manmatharu Kandilla Ee Milana
Nanna Naduvanu Nevarisu Nanna Olage Aavarisu
Yede Kampisi Kampisi Chumbisi Sweekarisu
Sparshavo Harshavo Prema Varshavo Kaane
Sahisu Nanna Dahisu Ninna Mechchina Baahugalalli
Pranayada Pandyadalli Bevare Panneeru
Hey Kalisu Bega Thilisu Hege Nannali Ninna Bandhisali
Ondondu Angaanu Ondondu Hoo Theru
Kampanake Kone Illa Kosaraatake Danivilla
Idu Indranu Kaanada Romaanchanavamma
Dharmavo Marmavo Athi Romavo Kaane
Chandirana Hididu Manchadalli Kattidu
Mugilanu Thandu Meththeya Maadidu
Chandirana Hidide Manchadali Kattide
Mugilanu Yelede Meththeya Maadide
Uriyo Sooryana Kadalali Bachchidu
Irulanu Ulisalu Bhoomige Helidu
Uriyo Sooryana Kadalali Muchchide
Irulane Ulisalu Dharanige Helide
Indu Modalirulu
Indu Modalirulu Namma Youvvanavu Nagalu |2|
Premavo Kaamavo Maayavo Kaane |2|
Vaalee Kannada Songs Lyrics
O Sona O Sona
Vasantha Maasadalli
Chandirana Hididu
Mele Chandrana
Dil Meri Dil
Comments
comments