March 2, 2018
O Sona O Sona Lyrics
O Sona O Sona Lyrics: O Sona O Sona is a song from the 2001 Kannada movie Vaalee [Vaali], directed by S. Mahendar. The film was produced by Ramesh Yadav under the banner Royal Pictures. Vaalee features Sudeep, Poonam Singar, Sadhu Kokila, Gurukiran, Bank Janardhan, Shanthammma, K S Sridhar, Michel Madhu, Ramanand, Mimicry Rajgopal, Danial, Vijayasarathi and others. This film was a remake of Tamil movie Vaali starring Ajith and Simran.
Anand Audio is the music label of this movie. This song was composed by Rajesh Ramanath with lyrics penned by K. Kalyan. O Sona O Sona was rendered by Hariharan and Sudeep.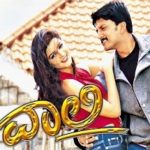 O Sona O Sona Lyrics
Movie: Vaali [2001]
Music Label: Anand Audio
Music: Rajesh Ramanath
Lyrics: K. Kalyan
Singers: Hariharan, Sudeep
Check out the lyrics here..
O Sona O Sona O Sona
I Love You Love You Dear
O Sona O Sona O Sona
I Love You Love You Dear
Hunnimeya Baachikonda Flowerr-a
Avalu Minchugala Bachchikonda Power-a
Malebilla Thottukonda Colour-a
Naan Avala Preethi Maadidantha Kathe Sundara
O Sona O Sona O Sona
I Love You Love You Dear
Ond Divsa Avlu Mouth Organ Play Madtha Idlu
Naanu Koothkond Keltha Idde
Ninge Play Madak Baraththa Andlu
Naa Baraththe Ande..
Nilsu Nilsu… Yaak Goththu Ande…
Goththilla Antha Helbekiththu
Yaake Goththirodna Goththu Antha Thane Helbeku…
Nange Sull Helak Ishta Illa
Ayyo Peddu.
Hengsrige Goththide Anno Gandsrigintha
Goththilla Anno Gandsrann Kandrene Thumba Ishta..
Neenu Avaththu Goththilla Andidre Avale Ninge Helkodolu
Haago Heego Dodd Romance Nad'dirode
Che Ni Miss Madkonde
Avath Romance Nadeethe
Hann Ninge Goththu Antha Helid Melu Romance Nadeetha? Hege?
Avlu Mouth Organ Kotlu..
Naa Hathra Hog Thagonde..
Mouth Organ'na Nod'de.. Avlna Nod'de..
Mouth Organ Kelgittu, Nin Mouth-E Organ Thara Ide..
Mathyak Mouth Organ Antha Heli Kiss Maadbitte…
O Sona O Sona O Sona
I Love You Love You Dear
Muthsanje Hoththalli Manjina Maleli
Nannavalu Neneyodanna Kandu Naanu Karagide
Avalandava Chandava Ondaagi Serisi
Nannedeya Goodali Gubbi Haage Bachchittukonde
Male Ninthoda Parive Illa Alli Yenaaytho Arive Illa
Yeshto Maathugalu Yedeyalli Ukki Banthu
Baayi Therede Thuti Mele Oththi Haari Hodavu Vu Vu Vu….
O Sonaaaaaa I Love You Oh My Dear Sona I Love You
O Sona O Sona O Sona
I Love You Love You My…..
Vaalee Kannada Songs Lyrics
O Sona O Sona
Vasantha Maasadalli
Chandirana Hididu
Mele Chandrana
Dil Meri Dil
Comments
comments