April 18, 2018
Kasi Tamil Movie Songs Lyrics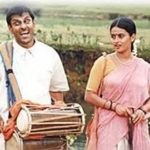 Kasi Tamil Movie Songs Lyrics: Kasi [Kaasi] is a 2001 Tamil movie , written and directed by Vinayan and produced by Aroma Mani under Sunitha Productions.
Kasi features Vikram, Kaveri, Kavya Madhavan, Manivannan, Vinu Chakravarthy, Rajeev, Chandrasekhar, Charle, Thalaivasal Vijay, Balaji, Suchitra Murali, Vadivukkarasi, Aishwarya, Manka Mahesh, Karthika and others.
Kasi marks the Tamil debut of Malayalam actress Kavya Madhavan. This film was a remake of the Vasanthiyum Lakshmiyum Pinne Njaanum, A 1999 Malayalam film directed by Vinayan himself featuring Kalabhavan Mani. The film was also remade in Telugu as Seenu Vasanthi Lakshmi starring R. P. Patnaik and in Kannada as Namma Preethiya Ramu featuring Darshan in the lead role.
Five Star Audio is the music label of this movie. All songs were composed by Isaignyani Ilaiyaraaja with lyrics penned by Pulamaipithan, Muthulingam, Mu. Mehta and Palani Bharathi. Singer Hariharan lent his voice to all the songs in this album.
Check out the lyrics here..
Naan Kaanum Ulagangal Lyrics
Movie: Kasi [2001]
Music Label: Five Star Audio
Music: Ilaiyaraaja
Lyrics: Mu. Mehtha
Singer: Hariharan
En Mana Vaanil Lyrics
Movie: Kasi [2001]
Music Label: Five Star Audio
Music: Ilaiyaraaja
Lyrics: Mu. Mehtha
Singer: Hariharan
Aathorathile Aalamaram Lyrics
Movie: Kasi [2001]
Music Label: Five Star Audio
Music: Ilaiyaraaja
Lyrics: Pulamaipithan
Singer: Hariharan
Maanu Tholu Undu Lyrics
Movie: Kasi [2001]
Music Label: Five Star Audio
Music: Ilaiyaraaja
Lyrics: Pulamaipithan
Singer: Hariharan
Punniyam Thedi Kasikku Lyrics
Movie: Kasi [2001]
Music Label: Five Star Audio
Music: Ilaiyaraaja
Lyrics: Palani Barathi
Singer: Hariharan
Rokkam Irukura Makkal Manasula Lyrics
Movie: Kasi [2001]
Music Label: Five Star Audio
Music: Ilaiyaraaja
Lyrics: Muthulingam
Singers: Hariharan, Sujatha
Comments
comments