May 5, 2018
Ulagam Pirandhadhu Enakkaga Song Lyrics
Ulagam Pirandhadhu Enakkaga Song Lyrics: Ulagam Pirandhadhu Enakkaga is a super hit evergreen song from the 1962 Tamil movie Paasam, directed by T. R. Ramanna and written by 'Thuraiyoor' K. Murthy. The film was produced by T. R. Ramanna under the banner R. R. Pictures. Paasam features Makkal Thilagam M. G. Ramachandran [MGR], B. Saroja Devi, M. R. Radha, Sheela, T. R. Rajakumari, Kalyan Kumar, S. A. Ashokan, T. R. Ramachandran, S. N. Lakshmi, C. K. Saraswathi, Lakshmi Rajyam and others.
Saregama is the music label of this movie. This song was composed by Viswanathan–Ramamoorthy with lyrics penned legendry Tamil lyricist Kannadasan. Ulagam Pirandhadhu Enakkaga song was rendered by The immortal singer T. M. Soundararajan [TMS].
This evergreen Tamil song gives me goosebumps every time I listen to it.  Such a optimistic song. great lyrics and music. This song lifts me up in the times when I feel low.  The lyrics is so positive and it reflects the way MGR sees his life. such a great personality.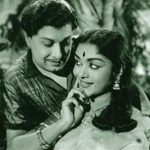 Ulagam Pirandhadhu Enakkaga Lyrics
Album: Paasam [1962]
Music Label: Saregama
Music: Viswanathan–Ramamoorthy
Lyrics: Kannadasan
Singer: T. M. Soundararajan
Check out the lyrics here..
Ulagam Pirandhadhu Enakkaaga
Odum Nadhigalum Enakkaaga
Malargal Malarvadhu Enakkaaga
Annai Madiyai Viriththaal Enakkaaga
Ulagam Pirandhadhu Enakkaaga
Odum Nadhigalum Enakkaaga
Ulagam Pirandhadhu Enakkaaga
Odum Nadhigalum Enakkaaga
Malargal Malarvadhu Enakkaaga
Annai Madiyai Viriththaal Enakkaaga
Ulagam Pirandhadhu Enakkaaga
Odum Nadhigalum Enakkaaga
Kaatril Midhakkum Oligalile
Kadalil Thavazhum Alaigalile
Iraivan Iruppadhai Naanariven
Ennai Avane Thaanarivaan
Iraivan Iruppadhai Naanariven
Ennai Avane Thaanarivaan
Ulagam Pirandhadhu Enakkaaga
Odum Nadhigalum Enakkaaga
Thavazhum Nilavaam Thangaradham
Thaaragai Padhiththa Mani Magudam
Kuyilgal Paadum Kalaikoodam
Kondadhu Enadhu Arasaangam
Kuyilgal Paadum Kalaikoodam
Kondadhu Enadhu Arasaangam
Ulagam Pirandhadhu Enakkaaga
Odum Nadhigalum Enakkaaga
Ellaam Enakkul Irundhaalum
Ennai Thanakkul Vaiththirukkum
Annai Maname En Koyil
Avale Endrum En Deivam
Annai Maname En Koyil
Avale Endrum En Deivam
Ulagam Pirandhadhu Enakkaaga
Odum Nadhigalum Enakkaaga
Ulagam Pirandhadhu Enakkaaga
Odum Nadhigalum Enakkaaga
Malargal Malarvadhu Enakkaaga
Annai Madiyai Viriththaal Enakkaaga
Ulagam Pirandhadhu Enakkaaga
Odum Nadhigalum Enakkaaga
Paasam [1962] Tamil Movie Song Lyrics
Ulagam Pirandhadhu Enakkaga
Paal Vannam Paruvam Kondu
Maalaiyum Iravum Sandhikkum Idaththil
Theredhu Silaiyedhu
Uravu Solla Oruvarindri
Jal Jal Jal Enum Salangai
Vengaikku Kurivaithu
Comments
comments