August 10, 2017
Ayana Kannada Song Lyrics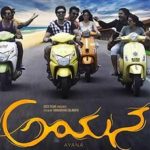 Ayana Kannada Song Lyrics: Ayana is a 2017 Kannada movie, directed by Ganagdhar Salimath. Ayana features Deepak Subramanya, Apoorva Soma, Ramesh Bhat, Nagshree Karkone, Vedashree Rao, Moksha Kushal, Harsha HS, Karthik A, Goutham S and others.
Songs were composed by Shriyansh Shreeram with lyrics penned by Rahul, Kiran Kaverappa, Srikanth Avancha and Kavya Mallar. Songs were rendered by Tippu, Anu Anand, D. Sathyaprakash, Priyanka NK, Sudarshan Arrows and Nikhil Mathew and others.
Check out the lyrics here..
Nee Nadeda Daariyali [Duet] Lyrics
Movie: Ayana [2017]
Music Label: Divo
Music: Shriyansh Shreeram
Lyrics: Kiran Kaverappa
Singers: Tippu, Anu Anand
Payana Tiruva Lyrics
Movie: Ayana [2017]
Music Label: Divo
Music: Shriyansh Shreeram
Lyrics: Kavya Mallar
Singers: Ishaan Dev, Madhuri Sheshadri
Nootana Ee Bhavane Lyrics
Movie: Ayana [2017]
Music Label: Divo
Music: Shriyansh Shreeram
Lyrics: Srikanth Avancha
Singers: D. Sathyaprakash, Priyanka NK
Through Lyrics
Movie: Ayana [2017]
Music Label: Divo
Music: Shriyansh Shreeram
Lyrics: Rahul
Singer: Raihaan
Minchante Minchi Lyrics
Movie: Ayana [2017]
Music Label: Divo
Music: Shriyansh Shreeram
Lyrics: Rahul
Singers: Sudarshan Arrows, Nikhil Mathew
Nee Nadeda Daariyali (Female) Lyrics
Movie: Ayana [2017]
Music Label: Divo
Music: Shriyansh Shreeram
Lyrics: Kiran Kaverappa
Singer: Anu Anand
Nee Nadeda Daariyali (Male) Lyrics
Movie: Ayana [2017]
Music Label: Divo
Music: Shriyansh Shreeram
Lyrics: Kiran Kaverappa
Singer: Tippu
Comments
comments