July 1, 2018
Allnodu Illnodu Lyrics | Double Engine
Allnodu Illnodu Lyrics | Double Engine: Allnodu Illnodu is a song from the 2018 Kannada movie Double Engine, directed by Chandra Mohan. The film was jointly produced by Arun Kumar N, Srikanth B M under the banner S.R.S. Group. Double Engine [2018] features Chikanna, Suman Ranganath, Ashok, Prabhu, Priyanka Malnad, Sadhu Kokila, Dathanna, Achyuth Kumar, Suchendra Prasad, Shobraj, Biradar and others. Aananda Audio is the music label of this movie. This song was composed by Veer Samarth with lyrics penned by K. Naveen Kumar. Alnodu Ilnodu Elnodu Colorsu song was rendered by playback singer Sanchith Hegde.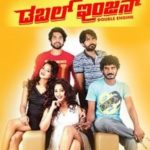 Allnodu Illnodu Lyrics
Movie: Double Engine [2018]
Music Label: Aananda Audio
Music: Veer Samarth
Lyrics: K. Naveen Kumar
Singer: Sanchith Hegde
Check out the lyrics here..
Alnodu Ilnodu Elnodu Colors-U
Bengluru Sooperru Life Illi Bindaasu
Ellaru Nammoru Annode Ee Ooru
Illyaare Bandroonu Enilla Problemmu
Outing-U Dating-U Everyday Shoping-U
Yendendu Naguvantha Hoovugala Seasonnu
Ondondu Divasanu Kanmunde Khayammu
Inneke Beku Bere Oorondu
Allnodu Illnodu Ellnodu Colors-U
Bengluru Sooperru Life Illi Bindaasu
Oorinda Illige Bandaaga Ommege
Santhoshada Nage Hechchagide
Khali Ice Creamige Godambiya Jothe
Jena Hanigalu Biddhaagide
Kann Mitukisadele Nee Nodu
Thuti Kunisuthalene Haadu
Mithi Badalisuthali Kunidaadu
One Two Three Start Maadu
Elladaru Odaadbodu Ellanu Ill Nodbodu
Enadaru Nee Madbodu Yaarilli Keloru
Ninne Kelorilla Naale Helorilla
Mojige Ee Dina Mosa Illa
Time-U Solpa Sikre Friends-U Jothegidre
Yaava Mall-U Khali Kanodilla
Hosa Lifestylugala Joru
Weekendugala Kaarbaaru
Bari Brandugalalle Mulugoru
Ee Trendy People-Llu
Dina Dina Dinavu Differentu
Kshana Kshana Kshanavu Update-U
Belavanigeli Deshake Top-U
Ee Namma Benglooru
Alnodu Ilnodu Elnodu Colors-U
Bengluru Sooperru Life Illi Bindaasu
Ellaru Nammoru Annode Ee Ooru
Illyaare Bandroonu Enilla Problemmu
Double Engine Kannada Songs Lyrics
Amase Divsa Chandran
Nam Hudugiyu Oppakondavle
Allnodu Illnodu Coloursu
Bari Moore Dinada Baalu
Comments
comments