September 20, 2018
Bhagyavantharu Naave Bhagyavantharu Song Lyrics
Bhagyavantharu Naave Bhagyavantharu Song Lyrics: Bhagyavantharu Naave Bhagyavantharu is famous Kannada song from the 1977 movie Bhagyavantharu, directed by H.R. Bhargava in his directorial debut and produced by Dwarakish under the banner Dwarakish Chithra.
Bhagyavantharu features Annavru Dr. Rajkumar, B. Sarojadevi, Ashok, Balakrishna, Ramakrishna, Thoogudeepa Srinivas, Sampath, Ramakrishna, Hanumanthachar, M S Sathya, Joker Shyam, Rajanand, Umesh, Shani Mahadev, Ashwath Narayan, Honnavalli Krishna, Mynavathi, Lakshmidevi, Suma, Jaya, Padmashree, Shashikala, Shantha, Dr Shidhar,Ramesh, Bheemarao and others. The film was a remake of 1974 Tamil film Dheerga Sumangali.
Saregama is the music label of this movie. This songs was composed by Rajan-Nagendra with lyrics written by Chi. Udaya Shankar. Bhagyavantharu Naave Bhagyavantharu Song was rendered by playback singers P. B. Sreenivas, S. Janaki and S. P. Balasubrahmanyam.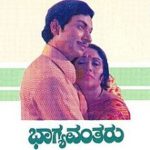 Bhagyavantharu Naave Bhagyavantharu Lyrics
Movie: Bhagyavantharu [1977]
Music Label: Saregama
Music: Rajan-Nagendra
Lyrics: Chi. Udaya Shankar
Singers: P. B. Sreenivas, S. Janaki, S. P. Balasubrahmanyam
Check out the lyrics here..
Bhagyavantharu Naave Bhagyavantharu
Bhagyavantharu Naave Bhagyavantharu
Thaayi Mamatheya Thande Preethiya
Padeda Naavugale Punyavantharu
Indu Naavugale Punyavantharu
Bhagyavantharu Naave Bhagyavantharu
Chinnada Gowri Karuneya Thori
Chinnada Gowri Karuneya Thori
Harasalu Nammellara Banda Haagide
Kaanade Gowri Aathura Thori
Kaanade Gowri Aathura Thori
Hudukutha Maheshwara Nonda Haagide
Shivanu Paarvathiyu Ondaagi Serida
Shivanu Paarvathiyu Ondaagi Serida
Ananda Ee Anubhanda
Namma Maneyalli Thumbirali Endendigu
Bhagyavantharu Naave Bhagyavantharu
Bhagyavantharu Naave Bhagyavantharu
Thaayi Mamatheya Thande Preethiya
Padeda Naavugale Punyavantharu
Indu Naavugale Punyavantharu
Bhagyavantharu Naave Bhagyavantharu
Snehadi Bande Preethiya Thande
Snehadi Bande Preethiya Thande
Pranayada Gangeyali Thaavareyaade
Jeevada Jeeva Nee Nanagaade
Jeevada Jeeva Nee Nanagaade
Naliyuva Makkalane Kaanike Thande
Intha Sudinavanu Naanendu Kaanenu
Intha Sudinavanu Naanendu Kaanenu
Santhosha Ee Soubhagya
Namma Baalalli Thumbirali Endendigu
Bhagyavantharu Naave Bhagyavantharu
Bhagyavantharu Naave Bhagyavantharu
Naguva Samsaara Baduku Bangaara
Naave Ee Jagadi Punyavantharu
Naave Ee Jagadi Bhagyavantharu
Naave Ee Jagadi Bhagyavantharu
Bhagyavantharu [1977] Movie Songs
Ninna Nanna Manavu Serithu
Ninna Snehake Naa Sothu Hodenu
Bhagyavantharu Naave Bhagyavantharu
Comments
comments