March 12, 2018
Aananda Aananda Aanandave Lyrics
Aananda Aananda Aanandave Lyrics: Aananda Aananda Aanandave is a song from the 1988 Kannada movie Jeevana Chakra, directed H. R. Bhargava and produced by Bhargava, Rajaram under the banner Kalakruthi. Jeevana Chakra features Vishnuvardhan, Raadhika, Vijayakashi, Saroja, Ramesh Bhat, C R Simha, Sudheer, Chi. Udayashankar and others. This movie was a remake of 1983 Telugu movie Dharmaatmudu starring Krishnam Raju and Jayasudha. The film was also remadein Tamil as Nallavanuku Nallavan starring Rajnikanth.
Sangeetha music was the music label of this movie. This song was composed by Rajan-Nagendra with lyrics penned by Chi. Udaya Shankar. This song Aananda Aananda Aanandave was rendered by S. Janaki and S. P. Balasubrahmanyam.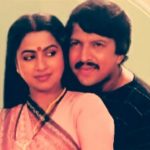 Aananda Aananda Aanandave Lyrics
Movie: Jeevana Chakra [1985]
Music Label: Sangeetha
Music: Rajan-Nagendra
Lyrics: Chi. Udaya Shankar
Singers: S. Janaki, S. P. Balasubrahmanyam
Check out the lyrics here..
Hehe Aha Haa Aaha Aha Haa
Aha Haa Aaha Aaha Aaha
Aananda Aananda Aanandave
Nee Thanda Preethiyinda
Nee Thanda Baalininda
Naanu Neenu Endu Heege
Snehadi Seralu
Aananda Aananda Aanandave
Nee Thanda Preethiyinda
Nee Thanda Baalininda
Naanu Neenu Endu Heege
Snehadi Seralu
Aananda Aananda Aanandave
Nee Thanda Preethiyinda
Nee Thanda Baalininda
Naanu Neenu Endu Heege
Snehadi Seralu
Hosa Baalu Hosa Reethi
Hosa Daari Hosa Preethi
Gelathi Nodide
Hosa Raaga Hosa Thaala
Hosa Bhaava Hosa Maathu
Indu Kelide
Hosa Baalu Hosa Reethi
Hosa Daari Hosa Preethi
Gelathi Nodide
Hosa Raaga Hosa Thaala
Hosa Bhaava Hosa Maathu
Indu Kelide
Saviyaada Nudiyinda
Hithavaada Haadinda
Hosa Nota, Nodide
Ella Chendave
Aananda Aananda Aanandave
Nee Thanda Preethiyinda
Nee Thanda Baalininda
Naanu Neenu Endu Heege
Snehadi Seralu
Aananda Aananda Aanandave
Nee Thanda Preethiyinda
Nee Thanda Baalininda
Aaha Haha Haa
Aaha Haaha Haa
Laala Laa Aha Haa
Nannaase Moggaagi
Aa Moggu Hoovaagi
Kampu Chellide
Odalella Jenaagi
Aa Jenu Ninagaagi
Iniya Illide
Nannaase Moggaagi
Aa Moggu Hoovaagi
Kampu Chellide
Odalella Jenaagi
Aa Jenu Ninagaagi
Iniya Illide
Thanuvella Bangaara
Manavella Bangaara
Gunadallu Chinnave
Enthaa Bhaagyave
Aananda Aananda Aanandave
Nee Thanda Preethiyinda
Nee Thanda Baalininda
Naanu Neenu Endu Heege
Snehadi Seralu
Aananda Aananda Aanandave
Nee Thanda Preethiyinda
Nee Thanda Baalininda
Jeevana Chakra Songs
Aananda Aananda Aanandave
Aakaashavu Ee Bhoomiyu Ella
Nannavaru Yaaru Illa Yaarige
Olleya Vayaside Olleya Manaside
Comments
comments