November 25, 2017
Anjaniputra Lyrics
Anjaniputra Lyrics: Anjaniputhraa is a song from an upcoming 2017 Kannada movie Anjaniputra, directed by A. Harsha. Anjaniputra features Puneeth Rajkumar, Rashmika Mandanna, Haripriya, Ramya Krishnan, P. Ravishankar, Sadhu Kokila, Chikkanna, Mukesh Tiwari, Girish, V. Manohar, Shobharaj and others. This film is a remake of 2014 Tamil movie Poojai. PRK Audio is the music label of this movie. This song was composed by Ravi Basrur with lyrics penned by Kinnal Raj. Anjaniputhraa was rendered by Ravi Basrur, Srinivas and Mohan.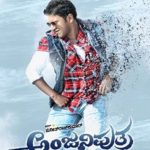 Anjaniputra Lyrics
Movie: Anjaniputra [2017]
Music Label: PRK Audio
Music: Ravi Basrur
Lyrics: Kinnal Raj
Singer: Ravi Basrur, Srinivas, Mohan
Check out the lyrics here..
Yatra Putra Shatru Naasha Yatpurusha Mahasuram
Yuga Sahasra Yojana Upatalapata Bheesahanam
Raksha Raksha Rakshamaam Vaanara Rajyaksham
Shatru Sainya Pragathikrutha Shaktha Prahaaram
Anjaniputhraa..
Jai Veera Hanuma
Shaurya Ghanaghaatra..
Jai Shoora Hanuma
Anjaniputhraa..
Jai Veera Hanuma
Shaurya Ghanaghaatra..
Jai Shoora Hanuma
Barasidiu Bhoomanadala Ghadaghadagisi Nin
Benganale Kanderasi Dhagadhagisida Vaayuputra
Dasha Dikkalu Samharisida Vajrakaaya
Bhorgarisi Dhigilebbisi Abbarisida Anajanisutha
Anjaniputhraa..
Jai Veera Hanuma
Shaurya Ghanaghaatra..
Jai Shoora Hanuma
Anjaniputhraa..
Jai Veera Hanuma
Shaurya Ghanaghaatra..
Jai Shoora Hanuma
Anjaniputhraa Songs
Anjaniputhraa
Magariya
Geetha
1234 Shille Hodi
Chanda Chanda
Saahukaaraa
Comments
comments