November 25, 2017
Magariya Lyrics
Magariya Lyrics: Magariya is a song from an upcoming 2017 Kannada movie Anjaniputra, directed by A. Harsha. Anjaniputra features Puneeth Rajkumar, Rashmika Mandanna, Haripriya, Ramya Krishnan, P. Ravishankar, Sadhu Kokila, Chikkanna, Mukesh Tiwari, Girish, V. Manohar, Shobharaj and others. This film is a remake of 2014 Tamil movie Poojai. PRK Audio is the music label of this movie. This song was composed by Ravi Basrur with lyrics penned by Chethan Kumar. Magariya was rendered by Sachin Basrur.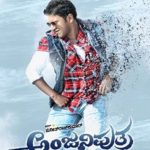 Magariya Lyrics
Movie: Anjaniputra [2017]
Music Label: PRK Audio
Music: Ravi Basrur
Lyrics: Chethan Kumar
Singer: Sachin Basrur
Check out the lyrics here..
Magariya Magariya Magariya Magariya
Riya Magariya Magariya Magariya
Onti Roadalli Nadedu Obbantiyada Ee Huduga
Magariya Magariya Magariya Magariya
Kirikku Hudugiya Kandu Vasi Poliyadanu Thiruga
Magariya Magariya Magariya Magariya
Naa Daari Thappide Nin Kandu Nin Hinde Bande Nee Bekendu
Raaja Raaniya Katheyondu Nee Bittare Speedali Heluve Bandu
Riya Magariya Magariya Magariya
Riya Magariya Magariya Magariya
Application Haakle Beka Preethi Maadkoke
Ayyo Permissionnu Kel'lebeka Kannu Hodeyoke
Heartinalli Love-Vvu Songu Startu Agoythu
Kele Ondu Chance-U Neede Nange Muddu Maadoke
Oo Mana Kele Nannanegu Neene Thane Nange
Riya Magariya Magariya Magariya
Riya Magariya Magariya Magariya
Ivalu Andre Yako Thumba Sentimentu
Nodadidre Yeruperu Heartu Beatu
Coffee Shop-Ee Giftu Koduve Maade Nee Too
Lovvinalli Nodangilla Wrongu Righte-U
Naanu Kelodilla Flashu Backu
Naanu Solodakke Naguve Saaku
Hoo Muththanu Needalu Reasonnu Yethake
Maththana Needuve Ittuko Nambike
Riya Magariya Magariya Magariya
Riya Magariya Magariya Magariya
Anjaniputhraa Songs
Anjaniputhraa
Magariya
Geetha
1234 Shille Hodi
Chanda Chanda
Saahukaaraa
Comments
comments