November 25, 2017
Chanda Chanda Lyrics – Anjaniputra
Chanda Chanda Lyrics – Anjaniputra: Chanda Chanda is a song from an upcoming 2017 Kannada movie Anjaniputra, directed by A. Harsha. Anjaniputra features Puneeth Rajkumar, Rashmika Mandanna, Haripriya, Ramya Krishnan, P. Ravishankar, Sadhu Kokila, Chikkanna, Mukesh Tiwari, Girish, V. Manohar, Shobharaj and others. This film is a remake of 2014 Tamil movie Poojai. PRK Audio is the music label of this movie. This song was composed by Ravi Basrur with lyrics penned by Pramod Maravante. Chanda Chanda was rendered by Ravi Basrur and Anuradha Bhat.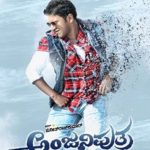 Chanda Chanda Lyrics
Movie: Anjaniputra [2017]
Music Label: PRK Audio
Music: Ravi Basrur
Lyrics: Pramod Maravante
Singer: Ravi Basrur, Anuradha Bhat
Check out the lyrics here..
Bhaari Kushi Marre Nange Nanna Hendthin Kandre
Ondu Churu Bayyudilla Rathri Kudkand Bandre
Bhaari Kushi Marre Nange Nanna Hendthin Kandre
Ondu Churu Bayyudilla Rathri Kudkand Bandre
Tv Radio Entha Beda Avlu Manegidre
Avlu Umbthe Illa Kaani Naanu Oota Mad'de
Nan Kintha Churu Dappa Aaru Nange Addilye
Avlu Kannu Bitre Nange Maathe Baththille
Avlu Seere Utkobandu Edrig Ninth
Koodle Mans Helath Ondu Maathu
Chanda Chanda Chanda Chanda Nan Hendthi
Moogin Thudili Solpa Sittu Jaasthi
Chanda Chanda Chanda Chanda Nan Hendthi
Nannantha Gandanige Avle Aasthi
Maneya Baagilalli Manadangaladalli
Rangoli Iduva Kaiyya Hyange Mareyali
Beeso Gaali Thagi Mungurulu Kelage Ilidu
Eshtu Chanda Kaanuthaale Hyange Helali
Dharma Dharmakke Kanninalle Baiyyo Maathu
Nodidaaga Nanna Hendthi Swapna Sundari
Oora Maathu Keli Kettu Baduku Dombaraata Aadru
Saayo Thanka Hegala Needo Vishwa Sundari
Eshte Beauty Eduru Kandru Nanna Hendthin
Kandu Manasu Helath Ondu Maathu
Chanda Chanda Chanda Chanda Nan Hendthi
Moogin Thudili Solpa Sittu Jaasthi
Chanda Chanda Chanda Chanda Nan Hendthi
Nannantha Gandanige Avle Aasthi
Bhari Kushi Marre Nange Nan Ganda Andre
Kenne Kemp Aath Kaani Avru Hathra Bandre
Chinna Belli Entha Byada Avr Preethi Sikre
Ella Kashta Doora Aath Avru Omme Nakre
Nan Kintha Maath Kammi Aaru Nange Addilye
Hendthi Maathu Kembo Ganda Sikre Sakalle
Avru Panchen Eththi Katti Kannu Hod'da Koodale
Mans Helath Ond Maatth
Chanda Chanda Chanda Chanda Nanna Ganda
Kanninaage Sanne Maadi Appikonda
Chanda Chanda Chanda Chanda Nanna Ganda
Baidrunu Maththe Nanna Oppikonda
Anjaniputhraa Songs
Anjaniputhraa
Magariya
Geetha
1234 Shille Hodi
Chanda Chanda
Saahukaaraa
Comments
comments