June 21, 2018
Bhagyavantha Song Lyrics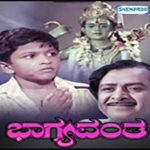 Bhagyavantha Song Lyrics: Bhagyavantha is a Kannada movie, written and directed by B. S. Ranga and was released in 1981. The film was produced by S. A. Govinda Raj and V. Bharath Raju under the banner Nirupama Art Combines. Bhagyavantha features Puneeth Rajkumar (Master Lohith), Jai Jagadish, Aarathi, Veteran actor Dr. Rajkumar, Thoogudeepa Srinivas, K. S. Ashwath, Balakrishna, Kanchana, Sudharani and others.
Sangeetha is the music label of this movie. All Songs were composed by T. G. Lingappa with lyrics penned by Chi. Udayashankar. Bhagyavantha Songs were rendered by Dr. Rajkumar, Poornachandra, Lohith and Kumari Jyothi.
Check out the lyrics here..
Thilidavaro Illa Moodaro Lyrics
Movie: Bhagyavantha [1981]
Music Label: Sangeetha
Music: T. G. Lingappa
Lyrics: Chi. Udayashankar
Singers: Dr. Rajkumar
Amma Seethamma Lyrics
Movie: Bhagyavantha [1981]
Music Label: Sangeetha
Music: T. G. Lingappa
Lyrics: Chi. Udayashankar
Singers: Poornachandra, Lohith
Nagu Kanda Nee Lyrics
Movie: Bhagyavantha [1981]
Music Label: Sangeetha
Music: T. G. Lingappa
Lyrics: Chi. Udayashankar
Singers: Kumari Jyothi
Baana Daariyalli Soorya Lyrics
Movie: Bhagyavantha [1981]
Music Label: Sangeetha
Music: T. G. Lingappa
Lyrics: Chi. Udayashankar
Singers: Lohith
Guruvaara Banthamma Lyrics
Movie: Bhagyavantha [1981]
Music Label: Sangeetha
Music: T. G. Lingappa
Lyrics: Chi. Udayashankar
Singers: Dr. Rajkumar
Comments
comments