March 5, 2018
Kalyana Rekhe Songs Lyrics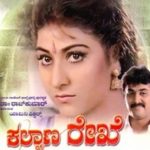 Kalyana Rekhe Songs Lyrics: Kalyana Rekhe is a 1993 kannada movie, directed by M. S. Rajashekar and produced by M. Sadanand. The film was based on the novel written by Sai Suthe. Kalyana Rekhe features Kanasina Raani Malashri, Shashikumar, Thoogudeepa Srinivas, Shubha, Doddanna, K. S. Ashwath, Sundar Krishna Urs, S. K. Bhagavan, Girija Lokesh, Ashalatha, M. S. Umesh and others.
Sangeetha was the music label of this movie. All Songs of the movie were composed and written by Hamsalekha. Songs were rendered by S. P. Balasubrahmanyam, Manjula Gururaj and Rajesh Krishnan.
Check out the lyrics here..
Oh Maina Oh Sakhi Lyrics
Movie: Kalyana Rekhe [1993]
Music Label: Sangeetha
Music: Hamsalekha
Lyrics: Hamsalekha
Singers: S. P. Balasubrahmanyam, Manjula Gururaj
Dayamaadi Mannisu Nannanu Lyrics
Movie: Kalyana Rekhe [1993]
Music Label: Sangeetha
Music: Hamsalekha
Lyrics: Hamsalekha
Singer: S. P. Balasubrahmanyam
Nagu Andare Naguthaale Lyrics
Movie: Kalyana Rekhe [1993]
Music Label: Sangeetha
Music: Hamsalekha
Lyrics: Hamsalekha
Singers: Manjula Gururaj
Oh Chaithrane Sanmithrane Lyrics
Movie: Kalyana Rekhe [1993]
Music Label: Sangeetha
Music: Hamsalekha
Lyrics: Hamsalekha
Singers: S. P. Balasubrahmanyam, Manjula Gururaj
Kalyaana Rekhe Ee Baalina Lyrics
Movie: Kalyana Rekhe [1993]
Music Label: Sangeetha
Music: Hamsalekha
Lyrics: Hamsalekha
Singers: S. P. Balasubrahmanyam, Manjula Gururaj
Markettinalli Ella Rate Lyrics
Movie: Kalyana Rekhe [1993]
Music Label: Sangeetha
Music: Hamsalekha
Lyrics: Hamsalekha
Singers: Rajesh Krishnan, Manjula Gururaj
Comments
comments