October 7, 2018
Nanna Haneya Mele Song Lyrics | Ondu Sanna Break Na Nantara
Nanna Haneya Mele Song Lyrics | Ondu Sanna Break Na Nantara: Nanna Haneya Mele is a song from an upcoming 2018 Kannada movie Ondu Sanna Break Na Nantara, directed by Abhilash Gowda. The film was produced by Sarvashree under the banner Colorful Crystal Combines.
The film features Hithan Hassan, Ammani, Surya, Kiran, Chaitra and others. Lahari Music is the music label of this movie. This song was composed by Hithan Hassan. The lyrics of this song was written by Abhilash Gowda. Nanna Haneya Mele Eradakshara Geechidanu song was sung by Anuradha Bhat and Hithan Hassan.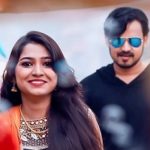 Nanna Haneya Mele Lyrics
Movie: Ondu Sanna Break Na Nantara
Music Label: Lahari Music
Music: Hithan Hassan
Lyrics: Abhilash Gowda
Singers: Anuradha Bhat, Hithan Hassan
Check out the lyrics here..
Sa Sa Nisa Nisa Nisa Nisa Nisa Nisa
Nisa Nisa Nisa Nisa Garipa
Gama Dada Dada Dani Dani Da
Dani Dani Dani Dani Nisapa
Sa Sa Nisa Nisa Nisa Nisa Nisa Nisa
Nisa Nisa Nisa Nisa Garipa
Gama Dada Dada Dani Dani Da
Dani Dani Dani Nisapa
Nanna Haneya Mele Eradakshara Geechidanu
Yenu Ariyada Hage Yellello Noduvanu
Adenu Antha Helalenu Naanu
Aa Eradaksharave Preethi Ennalenu
Beku Antha Modi Maadide Yenu
Ee Usirusirallu Berethanthaagide Neenu
Nanna Haneya Mele Eradakshara Geechidanu
|Sa Sa Nisa Nisa … Dani Dani Dani Nisapa|2|
Kanna Mundiro Kannadiyallu Neene Thumbiruve
Thirugi Noduva Munnave Yeke Naachutha Odiruve
Saagaradaalada Muththanu Naanu Ninnale Kandiruve
Maguvina Haage Nee Naguthiralu Nannane Naa Mareve
Baliye Iddaru Yelle Hodaru Thara Thara Preethi Maduvenu
Yendu Ninne Bayasuvenu
Ooo Yella Januma Neene Beku Yenddaa Devara Beduvenu
Ninnagali Naa Badukirrenu
|Sa Sa Nisa Nisa … Dani Dani Dani Nisapa|2|
Sakkare Naadina Akkare Thoruva Sundariye Ivalu
Saavira Saalanu Baredaru Sariye Varnanege Sigalu
Aaruthaliruva Deepake Neenu Kaavalu Aagiruve
Haaruthiro Nannee Manakindu Kachaguli Neediruve
Sammathisu Indaadru Neenu Ninna Madilali Malaguvenu
Jotheyale Hejje Haakuvenu
Maathinale Mane Kattuva Pora Nammoorigobne Kaththariyu
Ellarigu Iva Maadariyu
|Sa Sa Nisa Nisa … Dani Dani Dani Nisapa|2|
Ondu Sanna Break Na Nantara Songs
Barro Baddetava Mandya Rap Maduva
Kelodeno Itthu Inna
Nanna Haneya Mele Eradakshara Geechidanu
Preethine Onthara Maaye Hange
Comments
comments