October 7, 2018
Kelodeno Itthu Inna Lyrics | Ondu Sanna Break Na Nantara
Kelodeno Itthu Inna Lyrics | Ondu Sanna Break Na Nantara: Kelodeno Itthu Inna is a song from an upcoming 2018 Kannada movie Ondu Sanna Break Na Nantara, directed by Abhilash Gowda. The film was produced by Sarvashree under the banner Colorful Crystal Combines.
The film features Hithan Hassan, Ammani, Surya, Kiran, Chaitra and others. Lahari Music is the music label of this movie. This song was composed by Hithan Hassan. The lyrics of this song was written by Harshapriya. Kelodeno Itthu Inna song was sung by Damodar Naik.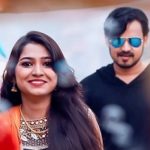 Kelodeno Itthu Inna Lyrics
Movie: Ondu Sanna Break Na Nantara
Music Label: Lahari Music
Music: Hithan Hassan
Lyrics: Harshapriya
Singer: Damodar Naik
Check out the lyrics here..
Kelodeno Itthu Inna
Helodeno Itthu Inna
Dari Theera Sero Munna..
Bittu Hode Neenu Nanna..
Kanasanu Kaanalu Kalisi
Nanasanu Kaanade Hoda
Munisali Visha Vidhi Bareda
Barahake Bali Nee Naada
Derena.. Derererenaa..
Neenillada Maneyalli
Nanakoogor Yaar Illi
Koothu Nintha Jaagagalu
Eega Khaali Khaali
Oo.. Ooo..
Saaku Nee Malagiddu
Maathaadu Meleddu
Beku Eega Kai Thutthu
Nee Preethi Beresiddu
Nodalu Bandavranna
Alisuvudenu Chenna
Saakaayithu Kambani Ota
Nee Nillisi Saavina Aata
Laaliya Haadi Malagisidantha
Devara Marali Kodu
Ee Jeeva Marali Kodu
Malagovaaga Laali
Madiline Jokaali
Onti Maadi Horatiruve
Hoguvudaadaru Elli
Ooo.. Ooo..
Thappiddare Kshamisi Bidu
Mounaana Muridu Bidu
Maathaadi Sari Maadona
Marali Bandu Bidu
Nee Nadesida Balliya Kadisi
Ee Kaiyali Kolliya Hidisi
Nenapina Narakava Thodisi
Horatiruve Bandhana Bidisi
Masanada Mannali Karagida Mele
Matthe Hutti Baa
Nee Matthe Hutti Baa
Nee Matthe Hutti Baa
Ondu Sanna Break Na Nantara Songs
Barro Baddetava Mandya Rap Maduva
Kelodeno Itthu Inna
Nanna Haneya Mele Eradakshara Geechidanu
Preethine Onthara Maaye Hange
Comments
comments