November 25, 2017
Geetha Lyrics – Anjaniputra
Geetha Lyrics – Anjaniputra: Geetha is a song from an upcoming 2017 Kannada movie Anjaniputra, directed by A. Harsha. Anjaniputra features Puneeth Rajkumar, Rashmika Mandanna, Haripriya, Ramya Krishnan, P. Ravishankar, Sadhu Kokila, Chikkanna, Mukesh Tiwari, Girish, V. Manohar, Shobharaj and others. This film is a remake of 2014 Tamil movie Poojai. PRK Audio is the music label of this movie. This song was composed by Ravi Basrur with lyrics penned by Ravi Basrur. Geetha was rendered by Vijay Prakash and Supriya Lohith.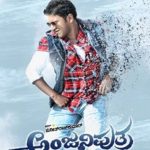 Geetha Lyrics
Movie: Anjaniputra [2017]
Music Label: PRK Audio
Music: Ravi Basrur
Lyrics: Ravi Basrur
Singer: Vijay Prakash, Supriya Lohith
Check out the lyrics here..
Ondomme Node Nanna Geetha
Ninna Naguve Nanage Sangeetha
Ondomme Node Nanna Geetha
Ninna Naguve Nanage Sangeetha
Ninna Hinde Naa Bandaru
Nodade Hoguvudu Sariye
Thusu Doora Hogi Nagu Naguthali
Nanna Adikolluvudu Sariye
Ondomme Node Nanna Geetha
Ninna Naguve Nanage Sangeetha
Dinavide Ninnanu Kaayutha Kuntharu
Manasali Nilladu Preethiya Thunthuru
Selethakke Sothu Nintha Neralu
Mounakke Sikki Aaythu Marulu
Badukethako Hadagettide
Hithavaagide Ee Dina
Ondomme Node Nanna Geetha
Ninna Naguve Nanage Sangeetha
Ninna Hinde Naa Bandaru
Nodade Hoguvudu Sariye
Thusu Doora Hogi Nagu Naguthali
Nanna Adikolluvudu Sariye
Nannomme Nodo Nanna Raaja
Ee Manasigeneene Neene Maharaaja
Ninna Nodade Iralaagadu
Naa Hege Heluvudu Thiliye
Kshame Keluva Manasaagide
Nanna Oppi Appiko Olave
Geetha Geetha Geetha Geetha
Anjaniputhraa Songs
Anjaniputhraa
Magariya
Geetha
1234 Shille Hodi
Chanda Chanda
Saahukaaraa
Comments
comments