March 2, 2018
Vaalee Kannada Songs Lyrics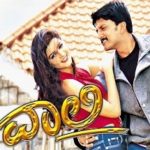 Vaalee Kannada Songs Lyrics: Vaalee [Vaali] is a 2001 Kannada movie, directed by S. Mahendar. The film was produced by Ramesh Yadav under the banner Royal Pictures. Vaalee features Sudeep, Poonam Singar, Sadhu Kokila, Gurukiran, Bank Janardhan, Shanthammma, K S Sridhar, Michel Madhu, Ramanand, Mimicry Rajgopal, Danial, Vijayasarathi and others. This film was a remake of Tamil movie Vaali starring Ajith and Simran.
Anand Audio is the music label of this movie. Songs were composed by Rajesh Ramanath with lyrics penned by K. Kalyan. Songs were rendered by Hariharan, Unni Krishnan, Anuradha Sriram, Gurukiran, Ganga and Rajesh.
Check out the lyrics here..
O Sona O Sona Lyrics
Movie: Vaali [2001]
Music Label: Anand Audio
Music: Rajesh Ramanath
Lyrics: K. Kalyan
Singers: Hariharan, Sudeep
Vasantha Maasadalli Lyrics
Movie: Vaali [2001]
Music Label: Anand Audio
Music: Rajesh Ramanath
Lyrics: K. Kalyan
Singers: Unni Krishnan, Anuradha Sriram, Sudeep
Chandirana Hididu Lyrics
Movie: Vaali [2001]
Music Label: Anand Audio
Music: Rajesh Ramanath
Lyrics: K. Kalyan
Singers: Unni Krishnan, Anuradha Sriram
Mele Chandrana Lyrics
Movie: Vaali [2001]
Music Label: Anand Audio
Music: Rajesh Ramanath
Lyrics: K. Kalyan
Singers: Anuradha Sriram, Rajesh
Dil Meri Dil Lyrics
Movie: Vaali [2001]
Music Label: Anand Audio
Music: Rajesh Ramanath
Lyrics: K. Kalyan
Singers: Gurukiran, Ganga
Comments
comments