January 24, 2023
Vijaya Vinayakane Gajamukhane Lyrics
Vijaya Vinayakane Gajamukhane Lyrics: Vijaya Vinayakane Gajamukhane is a Kannada devotional song about Lord Ganesha.
Lord Ganesha also known as Ganapati, Lambhodhara, Vinayaka, and other names is one of the most worshiped deities in the Hindu religion. He is the song of Lord Shiva and Goddess Parvathi. He is the elder brother of Lord Subramanya.
Vijaya Vinayakane Gajamukhane Song Lyrics were penned by lyricist Chi. Udayashankar and the song was composed by music director Upendra Kumar. This song was rendered by legendary actor and singer Dr. Rajkumar. MRT Music is the record label for this song.
Ganesha Chaturthi is the festival celebrated to honor Lord Vinayaka. This festival will be celebrated every year in the month of late August or early September.
Listen to this devotional song of Lord Ganesha on this occasion of Ganesha Chaturthi and get the blessing of Vinayaka. Wish you all a very happy Ganesha Chaturthi Festival.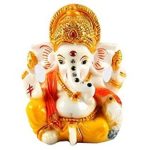 Vijaya Vinayakane Gajamukhane Lyrics
Genre: Kannada Devotional
Singer: Dr. Rajkumar
Music: Upendra Kumar
Lyrics: Chi. Udayashankar
Music Label: MRT Music
Check out 'Vijaya Vinayakane Gajamukhane Lyrics' here..
Gaja Mukhane Gowri Suthane
Shanmukha Sodarane
Rajatagirigodeyana Kumaarane
Rajatagirigodeyana Kumaarane
Vijaya Vinayakane
Vijaya Vinayakane
Vijaya Vinayakane
Gajamukhane Karunaasaagarane
Vijaya Vinayakane
Gajamukhane Karunaasaagarane
Harihara Brahmaru Anavaratha Bhajisuva
Harihara Brahmaru Anavaratha Bhajisuva
Moorjagadodeya Ganeshane
Moorjagadodeya Ganeshane
Vijaya Vinayakane
Neene Modalu Ninninda Thane Aarambha Jagadalella
Modala Pooje Ningaada Mele Innulida Poojeyella
Neene Modalu Ninninda Thane Aarambha Jagadalella
Modala Pooje Ningaada Mele Innulida Poojeyella
Neenu Harasidare Yaava Kaaryadalu Vighnavembudilla
Vijaya Vinayakane
Gajamukhane Karunaasaagarane
Vijaya Vinayakane
Sulabha Poojege Karuneyinda Nee Bega Olidu Baruve
Hullu Garikeya Hoovinanthe Sweekarisi Varava Koduve
Sulabha Poojege Karuneyinda Nee Bega Olidu Baruve
Hullu Garikeya Hoovinanthe Sweekarisi Varava Koduve
Premadinda Nenedavara Manadi Sthiravagi Yendu Iruve
Vijaya Vinayakane
Gajamukhane Karunaasaagarane
Vijaya Vinayakane
Gajamukhane Karunaasaagarane
Harihara Brahmaru Anavaratha Bhajisuva
Moorjagadodeya Ganeshane
Vijaya Vinayakane
Ganesha Devotional Songs
1. Ekadantaya Vakratundaya
2. Sharanu Sharanayya Sharanu Benaka
3. Gajamukhane Ganapathiye Ninage Vandane
4. Jai Ganesha Ninage Vandane
5. Kadubige Thuppa Haakidenappa
6. Ganapathi Ganapathi
7. Heluve Kathe Heluve
8. Belagaithu Yelu Hey Muddu Benaka
9. Hejje Mele Hejje Ittu Ganapa Bandane
10. Ganesha Astottara Shatanamavali
Comments
comments