November 25, 2017
Anjaniputra Song Lyrics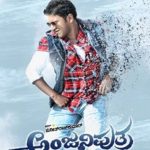 Anjaniputhraa Song Lyrics: Anjaniputhraa is an upcoming 2017 Kannada movie, directed by A. Harsha. Anjaniputra features Puneeth Rajkumar, Rashmika Mandanna, Haripriya, Ramya Krishnan, P. Ravishankar, Sadhu Kokila, Chikkanna, Mukesh Tiwari, Girish, V. Manohar, Shobharaj and others. This film is a remake of 2014 Tamil movie Poojai. PRK Audio is the music label of this movie.
Songs were composed by Ravi Basrur with lyrics penned by K. Kalyan, V. Nagendra Prasad, Pramod Maravante, Chethan Kumar, Kinnal Raj and Ravi  Basrur. Songs rendered by Vijay Prakash, Supriya Lohith, Anuradha Bhat, Puneeth Rajkumar, Ravi Basrur, Srinivas, Mohan and others.
Check out the lyrics here..
Anjaniputhraa Lyrics
Movie: Anjaniputra [2017]
Music Label: PRK Audio
Music: Ravi Basrur
Lyrics: Kinnal Raj
Singer: Ravi Basrur, Srinivas, Mohan
Magariya Lyrics
Movie: Anjaniputra [2017]
Music Label: PRK Audio
Music: Ravi Basrur
Lyrics: Chethan Kumar
Singer: Sachin Basrur
Geetha Lyrics
Movie: Anjaniputra [2017]
Music Label: PRK Audio
Music: Ravi Basrur
Lyrics: Ravi Basrur
Singer: Vijay Prakash, Supriya Lohith
1234 Shille Hodi Lyrics
Movie: Anjaniputra
Music Label:
Music: Ravi Basrur
Lyrics: V. Nagendra Prasad
Singer: Puneeth Rajkumar, Chandan Shetty
Chanda Chanda Lyrics
Movie: Anjaniputra [2017]
Music Label: PRK Audio
Music: Ravi Basrur
Lyrics: Pramod Maravante
Singer: Ravi Basrur, Anuradha Bhat
Saahukaaraa Lyrics
Movie: Anjaniputra [2017]
Music Label: PRK Audio
Music: Ravi Basrur
Lyrics: K. Kalyan
Singer: Vijay Prakash
Comments
comments