August 23, 2018
Chandramukhi Pranasakhi Song Lyrics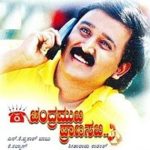 Chandramukhi Pranasakhi Song Lyrics: Chandramukhi Pranasakhi is a 1999 Kannada movie , directed by Seetharam Karanth. The film was produced by N K Prakash Babu under the banner Shreematha Pictures. Chandramukhi Pranasakhi features Ramesh Aravind, Prema, Bhavana, Srinivasa Murthy, Vaishali Kasaravalli, Akhila, Shivaram, B. V. Radha, Renukamma Murugod, Eshwari Kumari, Narayan, Mysore Ramanand, Mandeep Roy, Cheluvamurthy, Sudheer, Suresh Kumar, Sudarshan Gatti, K. K Gatti and others.
Lahari Music is the music label of this movie. Songs of this movie were composed and written by K. Kalyan. Singers S. P. Balasubramanyam, K. S. Chithra, Badri Prasad and Bhutto lent their voice for the songs.
Seetharam Karanth is writer and director in Kannada cini industry. Some of the memorable movie directed by him are Chandramukhi Pranasakhi [1999], Shreerasthu Shubhamasthu [2000], Smile [2003], Navu Namma Hendathiyaru [2011]
Check out the lyrics here..
Nenapugala Maathu Madhura Lyrics
Movie: Chandramukhi Pranasakhi [1999]
Music Label: Lahari Music
Music: K. Kalyan
Lyrics: K. Kalyan
Singers: S. P. Balasubramanyam, K. S. Chithra
Manase O Manase Lyrics
Movie: Chandramukhi Pranasakhi [1999]
Music Label: Lahari Music
Music: K. Kalyan
Lyrics: K. Kalyan
Singers: K. S. Chithra, Badri Prasad
Modala Prema Patrave Lyrics
Movie: Chandramukhi Pranasakhi [1999]
Music Label: Lahari Music
Music: K. Kalyan
Lyrics: K. Kalyan
Singers: K. S. Chithra, S. P. Balasubramanyam
Chiguru Bombeye Lyrics
Movie: Chandramukhi Pranasakhi [1999]
Music Label: Lahari Music
Music: K. Kalyan
Lyrics: K. Kalyan
Singer: K. S. Chithra
Aralo Hunnime Lyrics
Movie: Chandramukhi Pranasakhi [1999]
Music Label: Lahari Music
Music: K. Kalyan
Lyrics: K. Kalyan
Singer: S. P. Balasubramanyam
El El Mallige Lyrics
Movie: Chandramukhi Pranasakhi [1999]
Music Label: Lahari Music
Music: K. Kalyan
Lyrics: K. Kalyan
Singers: S. P. Balasubramanyam, K. S. Chithra, Bhutto
Ondu Prema Pallakkiya Mele Lyrics
Movie: Chandramukhi Pranasakhi [1999]
Music Label: Lahari Music
Music: K. Kalyan
Lyrics: K. Kalyan
Singers: K. S. Chithra, S. P. Balasubramanyam
Chandramukhi Hoy Lyrics
Movie: Chandramukhi Pranasakhi [1999]
Music Label: Lahari Music
Music: K. Kalyan
Lyrics: K. Kalyan
Singers: Chorus
Comments
comments