May 14, 2018
Kasturi Nivasa Songs Lyrics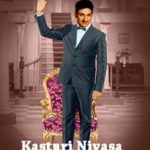 Kasturi Nivasa Songs Lyrics: Kasturi Nivasa [Kasthuri Nivasa] is a evergreen super hit 1971 Kannada movie, directed by the duo Dorai-Bhagavan. The film was produced by K. C. N. Gowda under the banner Anupam Movies.
Kasturi Nivasa features Annavru Dr. Rajkumar, Rajashankar, Jayanthi, K. S. Ashwath, Aarathi, Balakrishna, Narasimharaju, Vijayasree, Shyam, Ashwathanarayana, Surekha, Baby Rani, Baby Lalita and others. The film was remade in Tamil as Avanthan Manithan [1975] featuring Chevaliar Sivaji Ganesan and in Hindi as Shandaar [1974] where Sanjeev Kumar played the lead role.
Saregama was the music label of this movie. All songs of this movie composed by G. K. Venkatesh with lyrics penned by Chi. Udaya Shankar, R. N. Jayagopal and Vijaya Narasimha. Aadisi Nodu Beelisi Nodu song was rendered by singers P. B. Sreenivas, P. Susheela, L. R. Eswari and composer G. K. Venkatesh.
This album is one of the most celebrated Kannada movie album with some extraordinary songs which are still the favorites of Kannada cini music lovers. great peace of music and meaningful lyrics and beautiful rendering by the singers makes these songs evergreen hits.
Check out the lyrics here..
Aadisi Nodu Beelisi Nodu Lyrics
Movie: Kasturi Nivasa [1971]
Music Label: Saregama
Music: G. K. Venkatesh
Lyrics: Chi. Udaya Shankar
Singer: P. B. Sreenivas
Elle Iru Hege Iru Lyrics
Movie: Kasturi Nivasa [1971]
Music Label: Saregama
Music: G. K. Venkatesh
Lyrics: Chi. Udaya Shankar
Singer: P. Susheela
Aadisidaata Besara Moodi Lyrics
Movie: Kasturi Nivasa [1971]
Music Label: Saregama
Music: G. K. Venkatesh
Lyrics: Chi. Udaya Shankar
Singer: G. K. Venkatesh
Aadona Neenu Naanu Lyrics
Movie: Kasturi Nivasa [1971]
Music Label: Saregama
Music: G. K. Venkatesh
Lyrics: Vijaya Narasimha
Singer: P. B. Sreenivas
Nee Bandu Ninthaaga Lyrics
Movie: Kasturi Nivasa [1971]
Music Label: Saregama
Music: G. K. Venkatesh
Lyrics: R. N. Jayagopal
Singers: P. Susheela, P. B. Sreenivas
Oh Geleya Lyrics
Movie: Kasturi Nivasa [1971]
Music Label: Saregama
Music: G. K. Venkatesh
Lyrics: R. N. Jayagopal
Singer: L. R. Eswari
Comments
comments