October 17, 2017
Kshanvu Kooda Lyrics
Kshanvu Kooda Lyrics: Kshanvu Kooda is a song from an upcoming Kannada movie Gowdru Hotel, directed by Pon Kumaran. Gowdru Hotel features Vedhika, Prakash Raj, Archana Singh, Rachan Chandra and others. Divo is the music label of this movie. This song was composed by Yuvan Shankar Raja with lyrics penned by Kaviraj. Kshanvu Kooda was rendred by Yuvan Shankar Raja and Sanjana Kalmanje.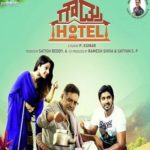 Kshanvu Kooda Lyrics
Movie: Gowdru Hotel [2017]
Music Label: Divo
Music: Yuvan Shankar Raja
Lyrics: Kaviraj
Singers: Yuvan Shankar Raja, Sanjana Kalmanje
Check out the lyrics here..
Kshanvu Kooda Sigadu Matte Mareyaada Mele Hey Hey
Saviyadidre Baduku Illi Bari Khaali Haale Yeyeye
Santoshake Saavira Daari
Hudugaatike Ninthare
Yaarige Anjide Ninage
Neene Dore Hey Hey Hey..
Come Come Baby
Lets Dance All Night
This Floor's Getting Hotter
With You By My Side
Baby Move The Head
Makes Me Go So Wild
So Hit Me One Number
I'll Call You Night
Jagave Kannadai Nodi Nakbidi
Chinte Ethake Chil Maadi
Baruva Naaleya Kaleda Ninneya
Chinte Ethake Chil Maadi
Huccherabeku Namm Mana Haaduttha
Sankocha Yaake Bidu Geleya
Iddaaga Intaha Praaya Huduga
Kaikatti Koorodu Yaava Nayaaya
Come Come Baby
Lets Dance All Night
This Floor's Getting Hotter
With You By My Side
Baby Move The Head
Makes Me Go So Wild
So Hit Me One Number
I'll Call You Night
Gowdru Hotel Songs
Ninna Haage
Kshanvu Kooda
Ondhe Jeevana
Gowdru Hotel Theme
Save
Comments
comments