September 16, 2017
Ninna Haage Lyrics
Ninna Haage Lyrics: Ninna Haage is a song from an upcoming Kannada movie Gowdru Hotel, directed by Pon Kumaran. Gowdru Hotel features Vedhika, Prakash Raj, Archana Singh, Rachan Chandra and others. Divo is the music label of this movie. This song was composed by Yuvan Shankar Raja with lyrics penned by K. Kalyan. Ninna Haage was rendred by Rahul Nambiar.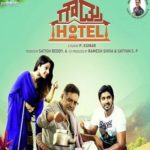 Ninna Haage Lyrics
Movie: Gowdru Hotel [2017]
Music Label: Divo
Music: Yuvan Shankar Raja
Lyrics: K. Kalyan
Singer: Rahul Nambiar
Check out the lyrics here..
Ninna Haage Yaare Cheluve
Neenu Tumba Chennagiruve
Bele Kattada Preethi Naa Koduve
Ninna Sparsha Nange
Ellu Kaanada Vishesha
Kanna Vedike Mele
Kathe Kattuva Santosha
Heege Irabeku Ee Nimisha
Ninna Haage Yaare Cheluve
Neenu Tumba Chennagiruve
Bele Kattada Preethi Naa Koduve
Ninna Nerala Shabda Keli
Saagarave Mai Nerayithu
Ninna Edeya Mugulu Naguvu
Alegalan Than Thaayithu
Maleya Hanigala Gadigeyo
Maralu Goodina Adigeyo
Beeso Gaali Lekhane Hidiyuthu
Nammannu Kurithu
Ninna Haage Yaare Cheluve
Neenu Tumba Chennagiruve
Bele Kattada Preethi Naa Koduve
Anuvu Anuvu Ninna Mukada
Bhava Chitragalaayithu
Berala Thudiyu Benna Taaki
Bahusa Sanjagalaayithu
Usiru Hodaru Badukuve
Badavanaadaru Bareyuve
Ninna Sannegalanna Jodisi
Mahalu Kattisuve
Ninna Haage Yaare Cheluve
Neenu Tumba Chennagiruve
Bele Kattada Preethi Naa Koduve
Thaana Naane Thaane Thaane
Thaana Naane Thaane Thaane
Gowdru Hotel Songs
Ninna Haage
Kshanvu Kooda
Ondhe Jeevana
Gowdru Hotel Theme
Save
Save
Save
Comments
comments