October 17, 2017
Gowdru Hotel Theme Lyrics
Gowdru Hotel Theme Lyrics: Gowdru Hotel Theme is a song from an upcoming Kannada movie Gowdru Hotel, directed by Pon Kumaran. Gowdru Hotel features Vedhika, Prakash Raj, Archana Singh, Rachan Chandra and others. Divo is the music label of this movie. This song was composed by Yuvan Shankar Raja with lyrics penned by K. Kalyan. Gowdru Hotel Theme was rendred by Vijay Prakash.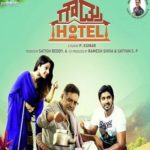 Gowdru Hotel Theme Lyrics
Movie: Gowdru Hotel [2017]
Music Label: Divo
Music: Yuvan Shankar Raja
Lyrics: K. Kalyan
Singer: Vijay Prakash
Check out the lyrics here..
Hey Hey
Hey Hey
Gowdara Hotel Hey Hey
Gowdara Hotel Hey
Gowdara Hotel Hey Hey
Gowdara Hotel Hey
Yeddu Ninthare Aakashakke Dicchi Hodeyo Brandina Hesare
Gowdara Hotel Gowdara Hotel
Yaare Bandaru Saare Duniyag Seddu Hodeyo Landina Hesare
Gowdara Hotel Gowdara Hotel
Oore Bandaru Hasivinda
Aana Haakthivi Kaitumba
Niyattiddare Barkattu Life Tumba
Biddawnu Elthaane
Sothawunu Gethaane
Kalkondre Ellaanu Matte Padithaane
Gowdara Hotel Gowdara Hotel
Gowdara Hotel Gowdara Hotel
Swaashaane Hodroonu Vishwaasa Idabeku
Pranaane Hodroonu Dhairyana Kodabeku
Avamaana Aadru Thalege Hackobaardu
Guri Muttovargu Yaaru Malagabaardu
Hogolarna Doora Ittu Naditha Irabeku
Kaalu Yeleyorindle Spoorthi Paditha Irbeku
Yedebidade Nuggutiru Kuggadiru Baggadiru Janareduru
Gowdara Hotel Gowdara Hotel
Gowdara Hotel Gowdara Hotel
Saaguva Ddarili Namadene Saadane
Paipoti Eshtidru Namageke Yochane
Ondonde Ittige Indle Kote Kattodu
Ondonde Hejjeindle Betta Hattodu
Novu Unda Badavan Hotte Thannagirabeku
Hey Kashta Pattonella Illi Chennagirabeku
Yedebidade Nuggutiru Kuggadiru Baggadiru Janareduru
Gowdara Hotel Gowdara Hotel
Gowdara Hotel Gowdara Hotel
Haan Kaal Soopu Thale Maamsa
Kaimapaal Eggburgi
Bangda Fish Fry Galu
Thinthidre Energy
Chicken Piece Pakkadalitre Mutton Chopsu
Bodyli Parts Ella Haakutte Clapsu
Hey Kholi Saaru Bisi Mudde Combination-U
Yaava Food-U Idake Illa Compitation-U
Biryani Leg Soopu Kudimukka Kudi Mukka Hasi Kushka
Gowdara Hotel Gowdara Hotel Gowdara Hotel
Gowdara Hotel Gowdara Hotel Gowdara Hotel
Gowdara Hotel Gowdara Hotel Gowdara Hotel
Gowdara Hotel Gowdara Hotel Gowdara Hotel
Gowdru Hotel Songs
Ninna Haage
Kshanvu Kooda
Ondhe Jeevana
Gowdru Hotel Theme
Save
Save
Comments
comments