October 17, 2017
Ondhe Jeevana Lyrics
Ondhe Jeevana Lyrics: Ondhe Jeevana is a song from an upcoming Kannada movie Gowdru Hotel, directed by Pon Kumaran. Gowdru Hotel features Vedhika, Prakash Raj, Archana Singh, Rachan Chandra and others. Divo is the music label of this movie. This song was composed by Yuvan Shankar Raja with lyrics penned by Kaviraj. Ondhe Jeevana was rendred by Yuvan Shankar Raja.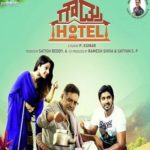 Ondhe Jeevana Lyrics
Movie: Gowdru Hotel [2017]
Music Label: Divo
Music: Yuvan Shankar Raja
Lyrics: Kaviraj
Singer: Yuvan Shankar Raja
Check out the lyrics here..
Hey Ondhe Jeevana
Ondhe Yavvana
Manasu Bicchi Baalabeku
Love You Hey
Ondhe Jeevana
Ondhe Yavvana
Rekke Bicchi Haarabeku
Love You
Bhoomi Ondu Banna Maaro Anagadiya Haagide
Nodu Nodu Ellinodu Chandavilli Chellide
Preethi Sneha Hanchabeku Sikka Ondu Life-Ali
Baalabeku Happy Happy-Li Neenilli Hey
Season Badalaada Haage Nanna Suttha Muttha
Reason Ninagoonu Gottu Neenantha
Magic Nee Maadi Bitte Mella Nagutha Nagutha
Music Nanna Hrudayake Kalisutta
Innanthu Swasha Vaasa Desha Loka Ella Ninnalle
Nanna Jeeva Kittu Kaige Koduve Ninthalle
Nina Mundenanthu Kalavanthe Eevatthu
Janisidde Dhanyage Hoyitu Naananthu
Mele Banda Bhoomiyantha Jeevana Aayithu
Saalu Saalu Haadu Haari Bandithu
Hey Ninagondu Vandane
Manasaare Heluve
Adu Entha Chenda Jaadu Moodide
Hoovinanthe Haadinanthe Kandananthe Komala
Neerinanthe Gaaliyanthe Bhoomiyanthe Nirmala
Preethi Sneha Hanchabeku Sikka Ondu Life-Ali
Baalabeku Happy Happy-Li Neenilli Hey
Gowdru Hotel Songs
Ninna Haage
Kshanvu Kooda
Ondhe Jeevana
Gowdru Hotel Theme
Save
Save
Comments
comments