August 10, 2018
Prema Daivagala Veda Lyrics | Nanjunda
Prema Daivagala Veda Lyrics | Nanjunda: Prema Daivagala Veda is a Kannada song from the 1992 movie Nanjunda, directed by S. Narayan and story by M. Leelavathi who is the producer of this film. Nanjunda features Vinod Raj, M Leelavathi, Sumathi, Malathi, B V Kumar, K. Hirannaiah, Pushpa Kollalirao, Sharmili, Prakash, Akash, Raju, Venkatesh, Kitty, Gopi, Ramesh, Ashalatha, Manju malini, Leela, Uma, Muniyamma, Nirmala, Geetha, Baby Raani and others.
Lahari Music is the music label of this movie. This song was composed by Rajmohan with lyrics penned by director S. Narayan himself. Prema Daivagala Veda song was rendered by playback singer Mano.
Vinod Raj is the son of Kannada actress Leelavathi. He was born in Chennai on 05 July 1967. He was trained in dancing. He made his debut through the 1987 Kannada movie Dance Raja Dance directed and produced by Dwarakish. some of Vinod Raj's notable movies are Dance Raja Dance, Krishna Nee Kunidaga (1989), College Hero (1990), Nanjunda (1993), Snehaloka (1999), Sri Manjunatha (2001) and others.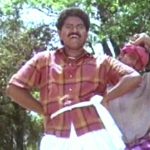 Prema Daivagala Veda Lyrics
Movie: Nanjunda [1992]
Music Label: Lahari Music
Music: Rajmohan
Lyrics: S. Narayan
Singer: Mano
Check out the lyrics here..
Prema Daivagala Veda
Veda Premigala Naada
Premaanuraaga Yede Meetidaaga
Premaanuraaga Yede Meetidaaga
Jotheyaade Nee Baalige
Prema Daivagala Veda
Veda Premigala Naada
Kannugala Bhasheyali Kareyole Prema
Kanasugala Raashiyali Saramaale Prema
Hariyuva Nadiyanthe Thilineeru Prema
Hasurina Pairanthe Usiraaythu Prema
Ee Naguve Thaane Ravi Kaano Prema
Baaninalu Kaane Kavi Kaano Prema
Manasaare Nodu Nijavaada Prema
Prema Daivagala Veda
Veda Premigala Naada
Hakkigalu Baaninali Nalidaado Vele
Thaalagalu Melagalu Namagaada Mele
Hareyada Haadinali Impaada Raaga
Mareyada Novinalu Thampaada Moha
Neeniralu Heege Naanella Mareve
Baalinali Nooru Kai Yenu Savive
Kene Haalu Jenu Berethanthe Prema
Prema Daivagala Veda
Veda Premigala Naada
Premaanuraaga Yede Meetidaaga
Premaanuraaga Yede Meetidaaga
Jotheyaade Nee Baalige
Prema Daivagala Veda
Veda Premigala Naada
Nanjunda [1992] Songs
Nammornaag Naanobne Jaana
Prema Daivagala Veda
Naguthaithe Daiva Alli
Sontava Hidibyada
Kaaduthaithe Beduthaithe
Comments
comments