July 25, 2017
Once More Kaurava Song Lyrics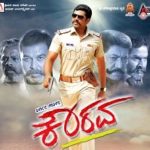 Once More Kaurava Song Lyrics: Once More Kaurava is an upcoming 2017 Kannada movie, directed by S. Mahendar. Once More Kaurava features Naresh Gowda, Anusha, Devaraj and others. Aananda Audio is the music label of this movie.
Songs were composed by Shridhar V Sambaram with lyrics penned by K. Kalyan. Songs were rendered by Tippu, Vijay Prakash, Sangeetha Ravindranath, Shruthi Prashanth, Shashank Sheshagiri.
Check out the lyrics here..
Illitanka Neenu Lyrics
Movie: Once More Kaurava [2017]
Music Label: Aananda Audio
Music: Shridhar V Sambaram
Lyrics: K. Kalyan
Singers: Vijay Prakash, Sangeetha Ravindranath
Malebil Yaake Lyrics
Movie: Once More Kaurava [2017]
Music Label: Aananda Audio
Music: Shridhar V Sambaram
Lyrics: K. Kalyan
Singer: Sangeetha Ravindranath
Naanu Neenu Lyrics
Movie: Once More Kaurava [2017]
Music Label: Aananda Audio
Music: Shridhar V Sambaram
Lyrics: K. Kalyan
Singer: M. L. R. Karthikeyan
Kannale Kusuri Lyrics
Movie: Once More Kaurava [2017]
Music Label: Aananda Audio
Music: Shridhar V Sambaram
Lyrics: K. Kalyan
Singers: Tippu, Sangeetha Ravindranath
Kanneeru Geechida Lyrics
Movie: Once More Kaurava [2017]
Music Label: Aananda Audio
Music: Shridhar V Sambaram
Lyrics: K. Kalyan
Singer: Shruthi Prashanth
Ondanondu Lyrics
Movie: Once More Kaurava [2017]
Music Label: Aananda Audio
Music: Shridhar V Sambaram
Lyrics: K. Kalyan
Singer: Shashank Sheshagiri
Save
Comments
comments