March 14, 2022
List of Chief Ministers of Andhra Pradesh
List of Chief Ministers of Andhra Pradesh: Andhra Pradesh is the 7th largest state by area and 10th most populous state in India. Amaravatiis the capital of Andhra Pradesh.
Andhra State was the first state to be formed on a linguistic basis in India on 1 October 1953. Andhra Pradesh state was formed On 1 November 1956, by merging Andhra State and Hyderabad State. The state was then reorganized in June 2014 to form a separate Telangana state.
Since 1956, Andhra Pradesh has had 17 chief ministers. Neelam Sanjeeva Reddy was the first chief minister of this state. Y. S. Jagan Mohan Reddy is the current chief minister of the state.
N. Chandrababu Naidu of Telugu Desam Party is the longest-serving chief minister. He held the office for over 13 years in multiple tenure. Kasu Brahmananda Reddy [Indian National Congress] has the second-longest tenure followed by N. T. Rama Rao [Telugu Desam Party], who has the third-longest tenure. N. Bhaskara Rao has the shortest tenure of 31 days.
One chief minister, Neelam Sanjeeva Reddy of the Indian National Congress party, later became the president of India. while another, P. V. Narasimha Rao of the same party, later became the prime minister of India. There have been three instances of president's rule in Andhra Pradesh,  most recently in 2014.
Chief Ministers of Hyderabad State (1948–1956)
1. M. K. Vellodi
Born: 1896, Kottakkal in Madras Presidency, British Raj (Present-day Malappuram district of Kerala)
Died: 1987 (aged 90–91) Chennai, Tamilnadu, India
Term: 26 January 1950 – 6 March 1952
Duration: 2 years, 40 days
Party: Independent
2. Burgula Ramakrishna Rao
Born: 13 March 1899, Padakallu, Kalwakurthy, Hyderabad State
Died: 15 September 1967 (aged 68)
Term: 6 March 1952 – 31 October 1956
Duration: 4 years, 239 days
Party: Indian National Congress
Chief Ministers of Andhra State
1. Tanguturi Prakasam
Born: 23 August 1872, Vinodarayunipalem, Madras Presidency, British India
Died: 20 May 1957 (aged 84) Hyderabad, Andhra Pradesh, India
Constituency:
Term: 1 October 1953 – 15 November 1954
Duration: 1 year, 45 days
Party:Indian National Congress
*President's rule
Term: 15 November 1954 – 28 March 1955
Duration: 133 days
2. Bezawada Gopala Reddy
Born:5 August 1907 Nellore, Madras Presidency, British India
Died: 9 March 1997 (aged 89)
Constituency: Atmakur
Term: 28 March 1955 – 31 October 1956
Duration: 1 year, 217 days
Party: Indian National Congress
Chief Ministers of Andhra Pradesh
1. Neelam Sanjiva Reddy
Born: 19 May 1913, Illur, Madras Presidency, British India
Died: 1 June 1996 (aged 83) Bangalore, Karnataka, India
Constituency: Kalahasti
Term: 1 November 1956 – 11 January 1960
Duration: 3 years, 71 days
Party: Indian National Congress
2. Damodaram Sanjivayya
Born: 14 February 1921, Peddapdu, Madras Presidency, British India
Died: 8 May 1972 (aged 51)
Constituency: Kurnool
Term: 11 January 1960 – 12 March 1962
Duration: 2 years, 60 days
Party: Indian National Congress
3. Neelam Sanjiva Reddy
Born: 19 May 1913 Illur, Madras Presidency, British India
Died: 1 June 1996 (aged 83) Bangalore, Karnataka, India
Constituency: Dhone
Term: 12 March 1962 – 20 February 1964
Duration: 2 years, 8 days
Party: Indian National Congress
4. Kasu Brahmananda Reddy
Born: 28 July 1909 Chirumamilla, Madras Presidency, British India
Died: 20 May 1994 (aged 84) Hyderabad, Andhra Pradesh, India
Constituency: Narasaraopet
Term: 21 February 1964 – 30 September 1971
Duration: 7 years, 221 days
Party: Indian National Congress
5. P. V. Narasimha Rao
Born: 28 June 1921, Laknepalli, Hyderabad State, British India
Died: 23 December 2004 (aged 83) New Delhi, India
Constituency: Manthani
Term: 30 September 1971 – 10 January 1973
Duration: 1 year, 102 days
Party: Indian National Congress
6. Jalagam Vengala Rao
Born: May 1921 Bayyannagudem, Hyderabad State
Died: 12 June 1999 (aged 78)
Constituency: Vemsoor
Term: 10 December 1973 – 6 March 1978
Duration: 4 years, 86 days
Party: Indian National Congress
7. Marri Chenna Reddy
Born: 13 January 1919, Peddamangalaram, Hyderabad State
Died: 2 December 1996 (aged 77) Hyderabad
Constituency: Medchal
Term: 6 March 1978 – 11 October 1980
Duration: 2 years, 219 days
Party: Indian National Congress
8. T. Anjaiah
Born: 16 August 1919, Bhanoor, British India
Died: 1986 (aged 67 years)
Constituency: MLC
Term: 11 October 1980- 24 February 1982
Duration: 1 year, 136 days
Party: Indian National Congress
9. Bhavanam Venkatarami Reddy
Born: 18 July 1931, Muppalla, British India
Died: 7 April 2002 (aged 70)
Constituency: MLC
Term: 24 February 1982 – 20 September 1982
Duration: 208 days
Party: Indian National Congress
10. Kotla Vijaya Bhaskara Reddy
Born: 16 August 1920 Amakathadu, Madras Presidency, British India
Died: 27 September 2001 (aged 81)
Constituency: Kurnool
Term: 20 September 1982 9 January 1983
Duration: 111 days
Party: Indian National Congress
11. N. T. Rama Rao
Born: 28 May 1923 Nimmakuru, Madras Presidency, British India
Died: 18 January 1996 (aged 72) Hyderabad, Andhra Pradesh
Constituency: Tirupati
Term: 9 January 1983 – 16 August 1984
Duration: 1 year, 220 days
Party: Telugu Desam Party
12. N. Bhaskara Rao
Born: 23 June 1936 (age 85) Guntur, Madras Presidency, British India
Constituency: Vemuru
Term: 16 August 1984 – 16 September 1984
Duration: 31 days
Party: Telugu Desam Party
13. N. T. Rama Rao
Born: 28 May 1923 Nimmakuru, Madras Presidency, British India
Died: 18 January 1996 (aged 72) Hyderabad, Andhra Pradesh, India
Constituency: Hindupur
Term: 16 September 1984 – 2 December 1989
Duration: 5 years, 77 days
Party: Telugu Desam Party
14. Marri Chenna Reddy
Born: 13 January 1919 Peddamangalaram, Hyderabad State
Died: 2 December 1996 (aged 77) Hyderabad
Constituency: Sanathnagar
Term: 3 December 1989 – 17 December 1990
Duration: 1 year, 14 days
Party:Indian National Congress
15. N. Janardhana Reddy
Born: 20 February 1935, Vakadu, Madras Presidency, British India
Died: 9 May 2014 (aged 79) Hyderabad
Constituency: Venkatagiri
Term: 17 December 1990 9 October 1992
Duration: 1 year, 297 days
Party: Indian National Congress
16. Kotla Vijaya Bhaskara Reddy
Born: 16 August 1920 Amakathadu, Madras Presidency, British India
Died: 27 September 2001 (aged 81)
Constituency: Panyam
Term: 9 October 1992 12 December 1994
Duration: 2 years, 64 days
Party:Indian National Congress
17. N. T. Rama Rao
Born: 28 May 1923 Nimmakuru, Madras Presidency, British India
Died: 18 January 1996 (aged 72) Hyderabad, Andhra Pradesh, India
Constituency: Hindupur
Term:12 December 1994 – 1 September 1995
Duration: 263 days
Party:Telugu Desam Party
18. N. Chandrababu Naidu
Born: 20 April 1950 (age 71) Naravaripalle, Madras State, India
Constituency: Kuppam
Term: 1 September 1995 – 13 May 2004
Duration: 8 years, 255 days
Party:Telugu Desam Party
19. Y. S. Rajasekhara Reddy
Born: 8 July 1949, Pulivendula, Madras State, India
Died: 2 September 2009 (aged 60) Nallamala Hills, Andhra Pradesh, India
Constituency: Pulivendla
Term: 14 May 2004 – 2 September 2009
Duration: 5 years, 111 days
Party:Indian National Congress
20. Konijeti Rosaiah
Born: 4 July 1933, Vemuru, Madras Presidency, British India
Died: 4 December 2021 (aged 88) Hyderabad, Telangana, India
Constituency: MLC
Term: 3 September 2009 – 24 November 2010
Duration: 1 year, 82 days
Party: Indian National Congress
21. Kiran Kumar Reddy
Born: 13 September 1959 (age 62) Hyderabad, Andhra Pradesh, India
Constituency: Pileru
Term: 25 November 2010 1 March 2014
Duration: 3 years, 96 days
Party: Indian National Congress
22. N. Chandrababu Naidu
Born: 20 April 1950 (age 71) Naravaripalle, Madras State, India
Constituency: Kuppam
Term: 8 June 2014 – 29 May 2019
Duration: 4 years, 355 days
Party:Telugu Desam Party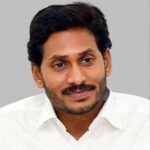 23. Y. S. Jagan Mohan Reddy
Born: 21 December 1972 (age 49) Jammalamadugu, Andhra Pradesh
Constituency: Pulivendla
Term: 30 May 2019 – Incumbent
Duration: 2 years, 283 days
Party: YSR Congress Party
Related Articles
List of Chief Ministers of Karnataka
List of Chief Ministers of Uttar Pradesh
List of Chief Ministers of Assam
List of Chief Ministers of Andhra Pradesh
List of Chief Ministers of Punjab
Comments
comments